Spring Bank Holiday and Platinum Jubilee Online Customer Service Opening Times:
Thursday 2nd June: 9am - 12noon
Friday 3rd June: Closed
Omega H3 - Everything You Need To Know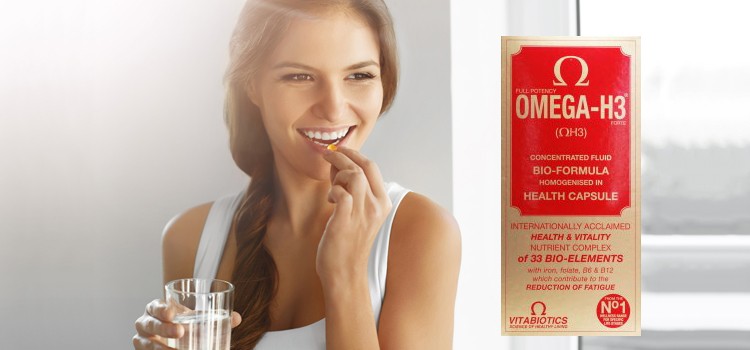 Published: 16th February, 2019 in: Health Advice
Omega-H3 is a supplement used to help maintain normal energy release and keep energy levels where they need to be, in order to reduce tiredness and fatigue. This product is a unique bio-formula internationally renowned as one of the most comprehensive supplements available. Containing a range of bio-elements such as vitamins, minerals, amino acids, ginseng, cod liver oil, and garlic, these health capsules are formulates to act as a daily safeguard, maintaining general health and vitality.
The effects of Omega-H3 usually build over several weeks, and noticeable results can usually be seen in one to three months.
How To Take Omega-H3
You should take one Omega-H3 capsule a day with, or immediately after, your main meal. You should also take these capsules with a full glass of water or a cold drink. Two capsules a day may be taken for the first few weeks if required, however this should not be made common practice. To avoid this, it is recommended that you take one capsule a day from the beginning, so as to get use to taking two capsules daily.
Taking the capsule with a large meal maximises the absorption of the nutrients and can reduce nausea, which is sometimes experienced if multivitamins are taken on an empty stomach. Only take Omega-H3 on a full stomach. Always ensure that Omega-H3 is taken with plenty of liquids to wash the capsule down, avoid hot drinks such as tea or coffee as this may cause the capsule to disintegrate too early.
If you are having trouble swallowing the tablet it is recommended to take it while swallowing food. Chew your food (preferably something easy to swallow such as a banana), just before you swallow pop in the capsule and swallow it together with the chewed food, followed by some liquid. Alternatively, the capsule may be swallowed with thicker liquid such as a smoothie. Difficulty swallowing capsules such as these is quite a common experience, so be inventive with ways around this issue - ensuring you always wash it down with cold liquid.
What To Avoid
These multivitamins are not suitable for vegetarians as they contain fish oil and are encased in a pharmaceutical grade gelatin capsule.
Do not exceed the recommended intake.
As with other food supplements, seek professional advice before using if you are pregnant, breast-feeding, suffer from food allergies, or are allergic to any of the ingredients.
This product contains iron which, if taken in excess, may be harmful to very young children.
This comprehensive formula replaces other Omega-H3 supplements and multivitamins. There is no need to take an additional multivitamin.
Food supplements must not replace a varied and balanced diet and healthy lifestyle.