Spring Bank Holiday and Platinum Jubilee Online Customer Service Opening Times:
Thursday 2nd June: 9am - 12noon
Friday 3rd June: Closed
Professional Pharmacy Services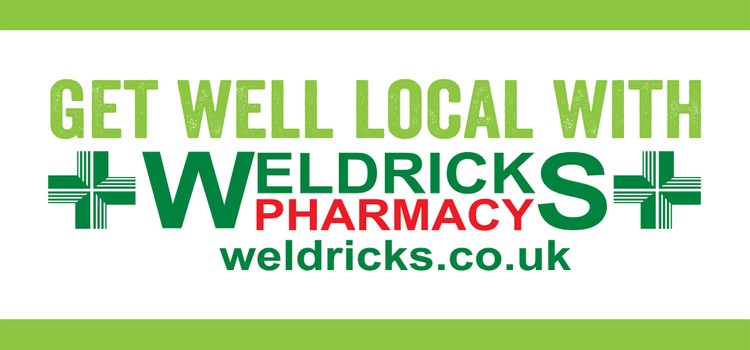 Published: 27th February, 2013 in: Health Advice News
Chlamydia Screening 15-24 (Local Enhanced Service)
10% of those aged 15-24, who were tested for Chlamydia, gave a positive result. Untreated, they would be at risk from long-term complications. If you are aged between 15 and 24 years of age you are entitled to a free Chlamydia test, which is available from our accredited pharmacies. All you have to do is leave a urine sample for testing and our specially trained staff will explain the rest. You can be assured of a completely confidential service. You may wish to contact the pharmacy to check if this service is available.
Chlamydia Service
A simple Chlamydia Testing Kit is now available to buy from selected Weldricks Pharmacies. A short consultation with the Pharmacist is required before purchasing the test. If a positive test result is received a treatment pack is available.
Emergency Contraception (Local Enhanced Service)
If you have had unprotected sex, it may be possible, if an accredited pharmacist is on duty, to make a supply of the emergency contraception pill without a prescription or charge. You may wish to contact the pharmacy to check if this is available.
Emergency Contraception
If you have had unprotected sex (sex without using contraception or you think your contraception might have failed) it is possible to buy the emergency contraceptive pill over the counter at your local Weldricks Pharmacy. This treatment should be taken within three days (72 hours) of having unprotected sex. It is more effective the sooner it is taken. This service is available at all Weldricks Pharmacies but it may advisable to telephone your local branch before your visit.
Medication Use Review
If you are taking any medication or suffering from a long-term illness our Pharmacist can help you to understand your medicines and how to get the most out of them. Contact your local Weldricks Pharmacist for a Medication Use Review (MUR) appointment. It's a free service and will only take between 10-20 minutes.
Minor Ailments Scheme
You don't need to wait for an appointment to see the GP. If you qualify for free prescriptions a range of conditions such as Diarrhoea, Hayfever, Cystitis, Headlice, etc can be treated by the Pharmacist without the need to visit your GP.
New Medicines Service
A new NHS service delivered through community pharmacies in England. If you receive a new medication for certain conditions your Pharmacist will ask you to sign up to receive other help and information about how to take your medication and what problems you may meet if it doesn't suit you. This will be followed up by two further conversations, either in person or by telephone, over the following month, to make sure you are safely getting the best from your medication.
NHS Stop Smoking Services
In addition to general stop smoking advice which is available at all Weldricks Pharmacies, a number of our Pharmacies offer NHS led Smoking Cessation Services. By enrolling on an NHS led Smoking Cessation Service you may qualify for free Nicotine Replacement Products.
Palliative Care
Palliative care involves relieving and preventing suffering in patients. The availability of palliative care drugs in pharmacies is important to cut delays in patient's treatment. Selected Weldricks pharmacies make sure that an agreed list of specialist medicines are stocked to dispense prescriptions within a timely manner. This service allows improved access for patients, carers and healthcare professionals to important medicines. You may wish to contact the pharmacy to check stock availability.
Private Seasonal Flu Vaccinations
If you are not entitled to a free seasonal flu vaccination on the NHS, specially trained pharmacists in some of our branches can offer you a private vaccination. This will be same vaccination that is administered through the NHS and the strains contained in the vaccine change each year to show the most virulent strains identified. You may wish to contact the pharmacy to check if this service is available.
Repeat Dispensing Service
Where the GP issues a number of repeatable prescriptions, we can hold these and dispense them on the patient's request, within proper time frames.
Repeat Prescription Ordering and Collection Service
By completing a simple form in the Pharmacy we can save you time by ordering and/or collecting your repeat prescription from your Surgery on your behalf. We can then have your medicines dispensed and ready for collection from the pharmacy. Contact your local Weldricks Pharmacy for details.
Seasonal Flu Vaccines (Local Enhanced Service)
Each year in the UK there is usually a seasonal outbreak of flu. Most people fully recover but possible complications can develop. Sometimes complications are serious and even fatal, therefore it is recommended if you are at increased risk of developing complications you should be immunised each year. Certain Weldricks pharmacies have a trained and accredited pharmacist to administer flu vaccinations to at risk groups of patients. It is very important that people who are at risk have their FREE seasonal flu vaccination every year. You may wish to contact the pharmacy for information with regards to at risk groups and availability.