Acumed Bioelectric Patch For Muscle Pain Pack of 4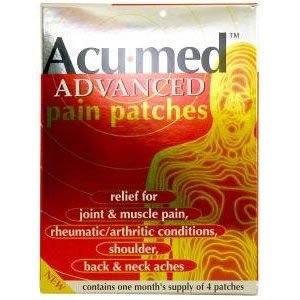 Acumed Bioelectric Patch For Muscle Pain Pack of 4
Description
The patches use electromagnetic fields on acupuncture points like ancient healing process of acupuncture, triple action, magnetic therapy, copper and zinc.
Acumed bioelectric patch is the natural source of pain relief, a drug-free alternative to the aid the pain relief
Acumed targets the pain directly, the patches are applied directly to the centre of the pain and to acupuncture points.
Providing relief for the most chronic or acute pains, also reviewed by Dr Sarah Brewer in her book 'Healing with Magnetic Therapy'
Contain high purity of Zinc and Copper in a magnetic field, working on the skin moisture to generate gentle impulses to stimulate the body's natural processes.
Directions
Apply patches directly over pain area, or acupuncture points suggested in the leaflet. Take one Oval Patch. Hold by protective tab. Do not touch adhesive surface. Press Oval patches down on dry skin. Peel off white tab. Smooth down patch. Leave continuously for 3-5 days before replacing.
Warnings
Do not use with a Pacemaker,
Do not use on open wounds
Do not use on abdomen during pregnancy
You may also like