Beverly Hills Formula Perfect White Gold Toothpaste 100ml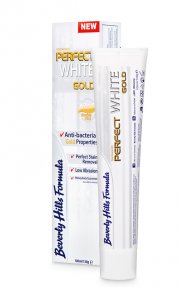 Beverly Hills Formula Perfect White Gold Toothpaste 100ml
£2.69 Save: £2.80 RRP: £5.49 Save: £2.80 Was: £4.49
This product is typically dispatched within 1-3 working days from date of order when using our standard delivery or 48 Hour Tracked and Signed service.
Brand: Beverly Hills Formula
Code: 3990942
Weight: 150g (includes packaging)
Description
Beverly Hills Formula Perfect White Gold Toothpaste helps remove surface and deep stains caused by tea, coffee, red wine, tobacco and spicy foods, to brighten, lighten and whiten your teeth.

The advanced Hydrated Silica within Perfect White Gold offers a high performance whitening boost while the stain dissolving ingredient, Pentasodium Triphosphate prevents food particles settling on the teeth.

In addition to its antibacterial properties, Gold is also known for its anti-inflammatory and blood flow increasing properties.

Sodium Fluoride within Perfect White Gold (0.31% w/w 1400ppmF) keeps your tooth enamel strong and healthy, effectively helping to prevent caries and decay, and protects against acid attacks.
Low Abrasion
Perfect Stain Removal
Anti-bacterial Gold Properties
Directions
Learning how to brush your teeth properly is the first step to maintaining healthy teeth and gums. Plus, it helps minimise the risk of tooth decay and gum disease, the major causes of tooth loss.
Before You Begin
While there are several methods of brushing teeth with a manual toothbrush, always ask your dental professional for their recommendation and be sure to follow their instructions. To start, use fluoride toothpaste with a soft-bristle toothbrush, and don't forget to replace it every three months.
Two Minutes, Twice a Day
To brush your teeth correctly, spend at least two minutes using a recommended technique, which includes 30 seconds brushing each section of your mouth (upper right, upper left, lower right and lower left), both morning and night. Since most manual toothbrushes don't have built-in two-minute timers, you may want to have a clock handy so you can be sure you're brushing long enough.
Positioning the Toothbrush
How you hold the toothbrush depends on which part of the tooth you're brushing.
Step 1: Start with outer and inner surfaces, and brush at a 45-degree angle in short, half-tooth-wide strokes against the gum line. Make sure you reach your back teeth.
Step 2: Move on to chewing surfaces. Hold the brush flat and brush back and forth along these surfaces.
Step 3: Once you get to the inside surfaces of your front teeth, tilt the brush vertically and use gentle up-and-down strokes with the tip of brush.
Step 4: Be sure to brush gently along the gum line.
Step 5: Brush your tongue in a back-to-front sweeping motion to remove food particles and help remove odour-causing bacteria to freshen your breath.
Step 6: Try gently brushing the roof of your mouth for an extra-fresh feeling.
Now that you've learned proper brushing technique, a little discipline in practicing it every day will help make it feel like second nature. It's one of the easiest things you can do to maintain the health of your teeth and gums.
Warnings
Do not swallow.
In case of intake of fluoride from other sources consult a dentist or doctor.
Sensitive teeth may indicate an underlying problem which needs prompt care by a dentist. See your dentist as soon as possible for advice.
Ingredients
Sorbitol, Aqua, Hydrated Silica, Pentasodium Triphosphate, Sodium Lauryl Sulfate, Aroma, Cellulose Gum, Sodium Saccharin, Sodium Hydroxide, Gold, Mica, CI 77891, CI 77491.

Also Contains: Sodium Flouride (0.31% w/w 1400ppmF).
You may also like