Bob Martin FleaClear Spot On for Medium Dogs 10 - 20kg Pack of 3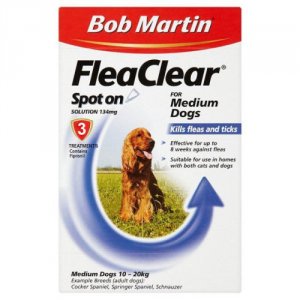 Bob Martin FleaClear Spot On for Medium Dogs 10 - 20kg Pack of 3
£11.99
This product is typically dispatched within 3-5 working days from date of order and is not suitable for our next day delivery service.
Brand: Bob Martin
Code: 5552632633
Weight: 175g (includes packaging)
Description
Applied at the back of the neck and between the shoulders, each treatment provides protection against fleas for up to 8 weeks and protects from ticks by up to 4 weeks.

Kills fleas and is clinically proven to be effective in 48 hours.

This product does not prevent ticks from attaching to dogs but will kill ticks within 48 hours.

Bob Martin FleaClear Spot On can be used on dogs over 2 months old and is suitable for use in homes with both cats and dogs.
Directions
Use one tube per dog, applied to the skin as directed.
Check that your dog is at least 2 months old AND that their weight falls within the weight range detailed on the front of the pack purchased.
1. FleaClear must be applied at 2 points - at the base of the back of the dog's head and between the shoulder blades. If the dog is wearing a collar remove it first so that it does not restrict application.
2. Hold tube upright and snap off the top section of the cap opening the tube.
3. Part your dog's coat until the skin is visible. Place the tip of the tube directly against the skin and squeeze gently. Apply approximately half of the tube at the back of the dog's neck and half between the dog's shoulders. Squeeze the tube several times to ensure dosing is complete. Avoid applying onto the fur and do not rub into the skin as this will reduce the product's performance. Do not allow pets to lick each other after treatment.
Warnings
Do not use on puppies less than 2 months old OR weighing less than 2kg.
Do not use if you or your dog has a known hypersensitivity to Fipronil or any other ingredient.
Do not allow recently treated pets to groom each other.
Only apply the product as instructed so that your pet cannot lick it off.
Take care to ensure that the liquid in the tube does not come into contact with the pet's eyes or mouth. If it does come into contact, wash it off quickly and thoroughly. If necessary seek veterinary advice.
Do not apply to any area of your dog's skin that is damaged (scratched, reddened, broken).
Do not use on sick or convalescent animals.
Not recommended for use in pregnant and nursing dogs. Consult your veterinary surgeon for advice.
If signs of disease persist or appear, consult a veterinary surgeon.
Do not use at the same time as other flea products which are applied directly onto the dog's skin.
Do not use on rabbits as death may occur!
You may also like