Brother Max 2 in 1 Digital Thermometer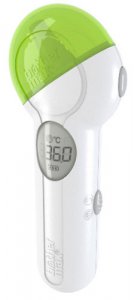 Brother Max 2 in 1 Digital Thermometer
Description
The Brother Max 2 in 1 Digital Thermometer has an LCD screen display and has 2 ways to measure for convenience.
digitally measures ear and forehead temperatures
10 second countdown feature
accurate to 0.1º
takes temperature in just 1 second
for the whole family
just wipe clean, no need for probe covers
easy to use with one-touch buttons and clear icons
memory stores the last temperature reading to refer back to
certified as a medical device
This multi-function 2-in-1 thermometer by Brother Max is designed for the whole family. You can measure ear and forehead temperature for your convenience. Our thermometer provides an accurate and fast digital reading to 0.1º in just 1 second for complete peace of mind. The sleek design is easy to hold and operate with one-touch buttons and clear icons. The temperature reading is shown clearly on the LCD display.
Unlike other ear and forehead thermometers, ours is designed for use without probe covers so you don't need to buy these separately – simply wipe the probe clean.
When repeatedly taking temperature, all contact thermometers need to re-acclimatise so a 10 second countdown is displayed on the screen for your convenience. Comes with a hygiene guard and cap to protect the probe.
Highly energy efficient with exceptionally long battery life. The battery level is shown on the display to indicate when it needs replacing. Easy to switch between Celsius and Fahrenheit modes. A button-cell battery is included.
Directions
All directions are detailed on the enclosed instructions leaflet.
Warnings
Please read all the warnings on the enclosed leaflet before first use.
Ingredients
There are no ingredients listed for this product.
You may also like