Colgate Total Pro Gum Health Interdental Starter Pack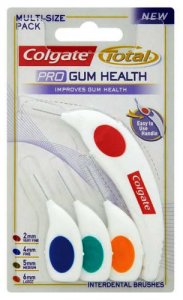 Colgate Total Pro Gum Health Interdental Starter Pack
£1.59 Save: £0.60 RRP: £2.19
Brand: Colgate
Code: 3712569
Weight: 35g (includes packaging)
Description

The Colgate Total Interdental Pro Gum Health Brush has been designed to effectively remove plaque between teeth. It is also effective for plaque removal around bridges, dental implants, orthodontic appliances and other hard to reach areas.
Colgate Total Pro Gum Health Interdental Brushes with an innovative handle and unique Tri-Proxi bristle technology were developed with patient compliance in mind.
Unique Tri-Proxi bristle technology adapts to the natural anatomy of interdental spaces.
Innovative handle with differetn configurations allow for better access around the mouth.

Multi size pack containing a re-usable handle.
Directions
Insert brush into spaces between the teeth. Move softly and slowly back and forth to remove plaque and food particles.
Use twice daily, before toothbrushing.
Warnings
Do not use if you are at risk of:
Ingredients
There are no ingredients listed for this product.
You may also like