Cow & Gate Anti Reflux Milk 900g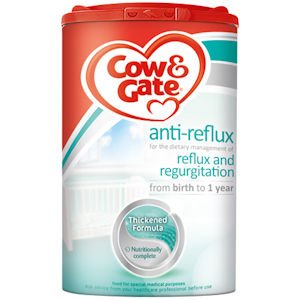 Cow & Gate Anti Reflux Milk 900g
£11.59
This product is limited to 2 per order, if you wish to order more please contact the pharmacy team/customer services.
This product is typically dispatched within 1-3 working days from date of order when using our standard delivery or 48 Hour Tracked and Signed service.
Brand: Nutricia
Code: 3764990
Weight: 982g (includes packaging)
Directions
Feeding guide birth 0 - 12 months
Approx. age of baby: 2 weeks; Approx. weight of baby: 4.0kg, 8.8lbs; Preparation for single feeds: 4 Number of level scoops; Amount of water: 120ml, 4fl.oz; Feeds in 24 hours: 6
Approx. age of baby: 4 months; Approx. weight of baby: 6.5kg, 14.5lbs; Preparation for single feeds: 7 Number of level scoops; Amount of water: 210ml, 7fl.oz; Feeds in 24 hours: 5
Approx. age of baby: 7-12 months; Approx. weight of baby: - kg, - lbs; Preparation for single feeds: 7 Number of level scoops; Amount of water: 210ml, 7fl.oz; Feeds in 24 hours: 3
*Assumes weaning at 6 months. Your baby may need more or less than the feeding guide above. This information is given as a guide only. Consult your healthcare professional if you require more advice.
* 1 scoop = 4.4g
Always use the scoop provided. The colour of the scoop in this pack may change from time to time.
How to prepare
Because powdered milks are not sterile, failure to follow instructions may make your baby ill.
Wash hands and sterilise all utensils according to manufacturers' instructions.

Boil freshly run water. Do not use artificially softened repeatedly boiled water.

Measure the required amount of boiled water into a large sterilised bottle. Seal bottle and allow to cool for 45 minutes.

Using the scoop provided, level off the powder with the built-in leveller.

Do not press or heap the powder.

Add one scoop per 30 ml (1 fl oz) of boiled and cooled water. Add the correct number of scoops to the water. Adding too many or too few scoops can be harmful.

Replace seal on bottle and roll the bottle upright between the palms of hands - roll strongly for 5 seconds. The time between adding the scoops and rolling the bottle should be as short as possible.

Shake the bottle for 20 seconds and then leave to stand for 7 minutes to allow it to thicken.
Turn the bottle upside down just before feeding and test the temperature on your wrist.
For hygiene reasons, do not store made up feeds. Make up each feed as required and always discard unfinished feeds after 2 hours.
If necessary, offer cooled boiled water between feeds.
This product should not be used in combination with antacids or other feed thickeners (e.g. Cow & Gate Instant Carobel).
As this is thickened feed, fast or variable flow teats are recommend.
EaZypack makes bottle feeding easier
To open: remove tamper evidence strip on the rim of the pack
Place your hand on the lid and lift it with your thumb to open it
There is a handy leveller built into the pack to ensure accurate dosage every time
Store your scoop in the lid so that it is kept safe and secure
Press the hand icon and click the lid securely shut to keep your powder fresh
Hints & tips for use:
When feeding Cow & Gate anti-reflux, you might find the following tips helpful:
Feeding smaller amounts more frequently
Changing to a more upright feeding position
Winding during the feed rather than at the end of the feed
Checking if the teat size you are using is suitable
Important notice
Cow & Gate anti-reflux is a food for special medical purposes. It should only be used under medical supervision, after full consideration of the feeding options available including breastfeeding. Suitable for use as the sole source of nutrition for infants from birth, and as part of a balanced diet from 6-12 months. Not suitable for parenteral use.
When bottle feeding do not allow prolonged or frequent contact of milk feeds with your baby's teeth as this increases the risk of tooth decay. Ask your Health Professional or Dentist for advice. Make sure your baby's teeth are cleaned after the last feed at night.
Never leave your baby alone during feeding.
Please always seek professional advice and talk to your healthcare professional before use.
Do not heat in a microwave. Hot spots may occur and cause scalding.
Description
For the dietary management of reflux regurgitation
Food for special medical purposes
Complete care
Thickened formula
Easy to digest
With LCPs & nucleotides
Nutritionally complete
Anti-reflux thickened formula for the dietary management of reflux and regurgitation suitable from birth
Why choose Cow & Gate anti-reflux?
Most babies bring their feeds up occasionally and this is perfectly normal. Sometimes this occurs more frequently, or in larger quantities and this is known as regurgitation or reflux. If you are concerned that your baby is having frequent reflux you should speak to your healthcare professional before using this product. Cow & Gate anti-reflux is a specially thickened formula with carob bean gum. Unlike starch based thickeners, carob bean gum thickens the formula on mixing and remains thick in the stomach, helping the feed to stay down.
Cow & Gate anti-reflux is a nutritionally complete formula; you can use it to feed your baby as a sole source of nutrition from birth and as part of a weaning diet from 6 months to 1 year.
What next?
Cow & Gate have been feeding babies for generations. They know how important it is to provide the right nutrition at every stage of your baby's development, that's why they've developed the Cow & Gate Complete range.
Please always consult your healthcare professional before changing to a different formula.
Warnings
Cow & Gate anti-reflux is packaged in a protective atmosphere. Contents may settle in transit.
Use powder within 4 weeks of opening and store in a cool dry place - do not refrigerate.
Ingredients
Lactose*, Skimmed Milk*, Vegetable Oils, Maltodextrin, Carob Bean Gum, Calcium Carbonate, Fish Oil, L-Cysteine Hydrochloride, Vitamin C, Emulsifier (Soya Lecithin), Taurine, Chloline Chloride, Iron Sulphate, Inositol, Zinc Sulphate, Uridine 5'-Monophosphate Sodium Salt, Vitamin E, Cytidine 5'-Monophosphate, Adenosine 5'-Monophosphate, Inosine 5'-Monophosphate Sodium Salt, Niacin, Guanosine 5'-Monophosphate Sodium Salt, L-Carnitine, Copper Sulphate, Folic Acid, Pantothenic Acid, Manganese Sulphate, Vitamin A, Biotin, Thiamin, Vitamin B12, Vitamin D3, Vitamin B6, Potassium Iodide, Vitamin K1, Sodium Selenite, Contains: *Milk

Contains Fish
Contains Milk
Contains SoyaSoybeans
You may also like