Due to an unusually high number of orders being received dispatch times may be longer than stated. Please allow up to 10 working days for dispatch.

We are also experiencing a high volume of calls. Please use our contact us page to leave a message and we will get back to you as soon as possible.
Cow & Gate First Milk Stage 1 Ready To Feed 200ml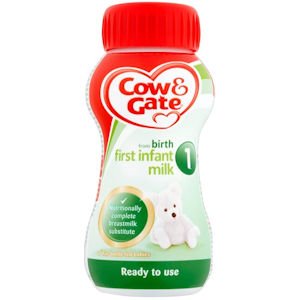 Cow & Gate First Milk Stage 1 Ready To Feed 200ml
£0.75
Brand: Nutricia
Code: 2511434
Weight: 220g (includes packaging)
Description
Cow & Gate First Infant Milk from newborn is designed to give your newborn the nutrients they need in the first few precious months.
For the first few months of life, your baby will get all their nutrition from milk. Cow & Gate First Infant Milk is a whey-based formula and can be used for combination feeding or if your baby is not being breastfed.
nutritionally complete breastmilk substitute
key vitamins and minerals
our unique blend of oligosaccharides (GOS/FOS)
LCPs and nucleotides
No need to carry powder and cooled boiled water when you're out and about – our ready-to-feed milks make feeding easier.
Directions
Please follow these instructions carefully. Failure to follow instructions may make your baby ill.
Wash hands and sterilise all utensils according to manufacturers' instructions.
Shake the bottle/carton before opening.
Using the feeding guide, pour the required amount of milk into a sterilised feeding bottle.
Cow & Gate ready to feed can be given at room temperature, or warmed if desired. If warmed, check temperature of feed.
Warnings
For hygiene reasons, discard unfinished milk in the feeding bottle as soon as possible, and always within 2 hours.
Do not heat in a microwave. Hot spots may occur and cause scalding.
Infants should be supervised at all times when feeding.
Once opened, unused milk must be refrigerated immediately and used within 48 hours.
Cartons can be resealed by holding down the spout – unused feeds must be refrigerated immediately and used within 24 hours.
Ingredients
Demineralised water, Skimmed milk*, Lactose*, Vegetable oils (contain soya lecithin), Galacto-oligosaccharides* (GOS), Fructo-oligosaccharides (FOS), Acidity regulator (citric acid), Calcium citrate, Fish oil, Calcium hydroxide, Vitamin C, Potassium hydroxide, L-Cysteine hydrochloride, Potassium citrate, Choline chloride, Taurine, Inositol, Iron lactate, Vitamin E, Zinc sulphate, Uridine 5'-monophosphate disodium salt, Vitamin A, Cytidine 5'-monophosphate, L-Carnitine, Adenosine 5'-monophosphate, Inosine 5'-monophosphate disodium salt, Vitamin D3, Niacin, Guanosine 5'-monophosphate disodium salt, Copper gluconate, Pantothenic acid, Sodium selenite, Vitamin B12, Biotin, Folic acid, Potassium iodide, Thiamin, Vitamin K1, Riboflavin, Vitamin B6, Manganese sulphate.
Contains: *Milk, Soya, Fish