Cow & Gate Nutriprem 2 800g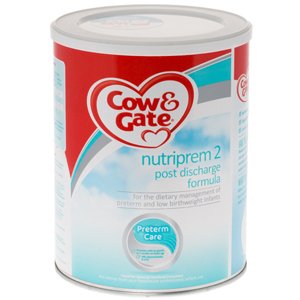 Cow & Gate Nutriprem 2 800g
£12.99
This product is limited to 6 per order.
This product is typically dispatched within 3-5 working days from date of order and is not suitable for our next day delivery service.
Brand: Nutricia
Code: 2724409
Weight: 1100g (includes packaging)
Description
Cow & Gate Nutriprem 2 is nutritionally tailored to support the catch-up growth of preterm and low birthweight babies once they have been discharged from hospital. It is specially designed to help bridge the gap between a hospital preterm formula and a standard infant milk, and can be used under medical supervision until 6 months corrected age. Please speak to your healthcare professional before moving on from Nutriprem 2.
Directions
| Approx weight of baby kg / lbs | Number of level scoops | Amount of water ml / fl oz | Feeds in 24 hours |
| --- | --- | --- | --- |
| 2.0 / 4.5 | 2 | 60 / 2 | 6 |
| 3.5 / 7.5 | 3 | 90 / 3 | 6 |
| 5.0* / 11.0 | 5 | 150 / 5 | 5 |
| 6.0 / 13.0 | 6 | 180 / 6 | 4 |
*Assumes weaning at about 5kg.

Your baby may need more or less than the feeding guide above. This information is given as a guide only. Consult your healthcare professional if you require more advice.

1 scoop = 5.1g

Always use the scoop provided. The colour of the scoop in this pack may change from time to time.

Because powdered milks are not sterile, failure to follow instructions may make your baby ill.
Wash hands and sterillise all utensils according to manufacturers instructions.
Boil freshly run water. Leave to cool for 30 minutes. Do not use artificially softened or repeatedly boiled water.
Measure the required amount of water (refer to feeding guide) into a sterillised bottle. Do not add powder to boiling water due to risk of scalding.
Using the scoop provided, level off the powder with the biult-in leveller. Do not press/heap the powder.
Add one scoop to every 30ml (1 fl oz) of boiled cooled water. Add the correct number of scoops to the water. Adding too many or too few scoops can be harmful.
Replace seal on bottle. Shake well for 10 seconds to dissolve powder. Remove seal, replace with a sterillised teat.
Cool under running tap. Check temperature of feed. Feed immediately.



For hygiene reasons, do not store made up feeds. Make up each feed as required and always discard unfinished feeds after 1 hour.
If necessary offer cooled boiled water between feeds.
Infants should be supervised at all times when feeding.
Do not heat in a microwave. Hot spots may occur and cause scalding.
Storage - use powder within 4 weeks of opening and store in a cool dry place - do not refrigerate.
Warnings
Cow & Gate nutriprem 2 post discharge formula is not a low birthweight formula and should only be used during transitional care, and thereafter in the community.
Levels of most vitamins and minerals in Cow & Gate nutriprem 2 post discharge formula are higher than in infant milks used for term infants. Cow & Gate nutriprem 2 post discharge formula is nutritionally complete therefore additional nutrient supplementation will not be needed for bottlefed preterm infants post discharge.
This product is not suitable for intravenous use.
Not suitable for vegetarians due to the processing of some ingredients and contains LCPs derived from fish oil.
Ingredients
Lactose (from milk), Vegetable Oils (Sunflower oil, Coconut oil, Rapeseed oil, Palm oil, Evening Primrose oil, Single Cell oil), Skimmed milk, Whey protein concentrate (from milk), Glucose syrup, Galacto-oligosaccharides (GOS) (from milk), Medium chain triglycerides, Egg lipid, Fish oil, Fructo-oligosaccharides (FOS), Calcium carbonate, Calcium phosphate, Potassium citrate, Sodium chloride, Magnesium hydrogen phosphate, Inositol, Vitamin C, Choline chloride, Emulsifier (soy lecithin), Taurine, Iron sulphate, Vitamin E, Zinc sulphate, Cytidine 5'-monophosphate, Niacin, Uridine 5'-monophosphate sodium salt, Inosine 5'-monophosphate sodium salt, Pantothenic acid, L-carnitine, Adenosine 5-monophosphate, Vitamin A, Guanosine 5'-monophosphate sodium salt, Copper sulphate, Thiamin, Vitamin B6, Vitamin D3, Vitamin B12, Riboflavin, Folic acid, Potassium iodide, Manganese sulphate, Vitamin K1, Sodium selenite, Biotin.
You may also like