Cubicole D3 400iu Capsules Pack of 30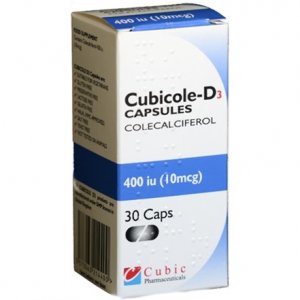 Cubicole D3 400iu Capsules Pack of 30
£5.99 Save: £0.96 RRP: £6.95
This product is typically dispatched within 3-5 working days from date of order and is not suitable for our next day delivery service.
Brand: Cubicole
Code: 3806726
Weight: 150g
Description
Cubicole D3 Capsules help maintain healthy levels of Vitamin D. They contain Vitamin D3 (colecalciferol), which is the body's preferred form of vitamin D.
Vitamin D3 supplements are designed for people who are at risk of not getting enough vitamin D:
Pregnant and breastfeeding women
Babies and young children younger than five
People aged 65 years and over
People who are not exposed to much sun, such as people who cover up their skin when outdoors or those who are housebound or confined indoors for long periods
People who have darker skin
Directions
Take one to two capsules daily or as directed by a healthcare practitioner.
Warnings
Keep out of the reach and sight of children.

Do not take Cubicole D3 Capsules if you have hepatic or renal impairment.

Do not take Cubicole D3 Capsules if you have a known hypersensitivity to Colecalciferol or any of the other ingredients.

If you suffer from the rare disease sarcoidosis, always consult your doctor before taking any vitamin D preparations.

Cubicole D3 Capsules do not use materials containing, peanuts or peanut derived materials. However, Cubic Pharmaceuticals cannot guarantee that their products do not contain trace amounts of material.

Recommended daily allowances (RDAs) for vitamin D are mostly in the range of 600-1000IU daily. Tablets or capsules of vitamin D containing larger amounts are only intended for weekly administration, and are high dosage preparations. It is strongly recommended that you consult a healthcare professional such as your doctor or pharmacist before taking any high doses (greater than 1000 IU daily) of any vitamin D preparation.

Taking too many vitamin D supplements over a long period of time can cause more calcium to be absorbed than can be excreted. The excess calcium can be deposited in and damage the kidneys. Excessive intake of vitamin D can also encourage calcium to be removed from bones, which can soften and weaken them.
Ingredients
Colecalciferol (Vitamin D3), Dibasic Calcium Phosphate (Dihydrate), Magnesium Stearate and Microcrystalline Cellulose contained within a Size 2 White Vegetal Capsule (Hydroxypropyl Methyl Cellulose).
You may also like