Cymaclear Oral Solution 60ml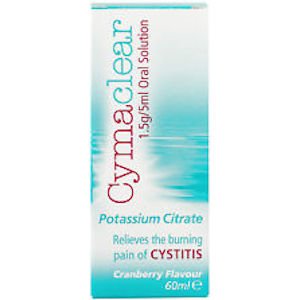 Cymaclear Oral Solution 60ml
Description
Cymaclear is a cranberry flavoured oral solution for the relief of symptoms from Cystitis and other mild urinary tract infections. Combined with the active ingredient Potassium Citrate to promote the reduction in the urine's acidic level helping to relieve the pain and discomfort.
Potassium citrate.
Relieves the burning pain of Cystitis.
Cranberry flavour.
Treats other mild urinary tract infections.
Oral solution.
Directions
Adults, the elderly and children over 6 years
Shake the bottle thoroughly before use.

Fill the dosing cup provided to the 10ml mark.

Stir into a glass ofwater.

Drink the diluted medicine 3 times a day after meals.
Children under 6 years
Do not give to children under 6 unless your doctor tells you to.
If you accidentally take too much, see a doctor straight away. Take the pack with you to show which medicine you have swallowed.
Warnings
Talk to your doctor:
If you still have symptoms after 2 days.

This medicine is not an antibiotic. If your symptoms persist the doctor may need to prescribe antibiotics aswell.
Do not use the medicine if you or your child have:
An allergy to potassium citrate or any of the ingredients listed.

High levels of potassium in your blood.

Kidney problems.

Irregular heart beat or heart problems.

Addison's Disease (an adrenal gland problem).
Talk to your doctor if you or your child have:
Symptoms which carry on for more than 2 days after you start taking this medicine.

Symptoms which keep recurring.

Or are elderly, as elderly people can react differently to this medicine.
Talk to your doctor or pharmacist if you or your child are taking
Nitrofurantoin or methenamine for a urinary or bladder infection.

Cardiac glycosides (e.g. digoxin) for heart problems.

Aspirin or other salicylates.

Tetracycline (an antibiotic).

Decongestants or drugs to help ease breathing (e.g. salbutamol, ephedrine, phenylephrine)

Stimulant drugs (amphetamines).

Barbiturates (e.g. phenobarbital).

Other medicine containing potassium or medicine which may retain potassium in your body (e.g. drugs used for heart failure or cyclosporin) as these may be affected by taking this medicine.
Ask your doctor or pharmacist for advice before using this medicine if you are pregnant, might be pregnant or are breastfeeding. Cymaclear 1.5g/5ml Oral Solution should not be used in pregnancy unless the doctor has told you to do so.
This product contains small amounts of ethanol (alcohol), less than 100mg per 10ml dose.
It also contains 2.2g sucrose per 10ml dose. This should be taken into account in people with diabetes. If you have been told by your doctor that you have an intolerance to some sugars, contact your doctor before taking this medicine.
Possible side effects
Like all medicines, Cymaclear 1.5g/5ml Oral Solution can have side effects, although these don't affect everyone.
Upset stomach.

Nausea (feeling sick).

Sickness.

Abnormal heart rhythm due to high levels of potassium in the blood.
If you notice these or any other side effect not included above, stop use and tell your doctor or pharmacist. They will tell you what to do.
If any of the side effects gets serious, or if you notice any side effects not listed above, please tell your doctor or pharmacist.
Keep it out of the sight and reach of children.
Store below 25°C.
Keep the container tightly closed.
Throwaway any unused liquid 2 months after opening.
Do not use after the expiry date shown on the carton.The expiry date refers to the last day of that month.
Medicine should not be disposed of via wastewater or household waste. Ask your pharmacist howto dispose of any unused medicine.These measures will help to protect the environment.
Ingredients
Potassium Citrate, citric acid, monohydrate, quillaia tincture, cranberry flavour, ethanol, chloroform, purifiedwater and syrup.
You may also like