Cymalon Cranberry Extract Tablets Pack of 60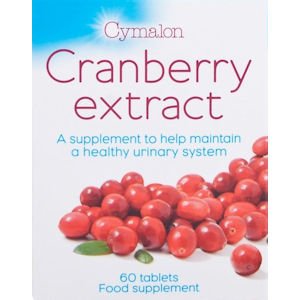 Cymalon Cranberry Extract Tablets Pack of 60
Description
Cranberry extract food supplement. Made from natural cranberry fruit. Suitable for vegetarians and vegans
Directions
How to take Cymalon Cranberry Extract:
Take 1-4 tablets daily to help maintain a healthy urinary system.
Each tablet typically contains cranberry extract 200mg equivalent to fresh cranberry 5000mg.
Warnings
Before taking this supplement seek advice from your health care professional if pregnant or planning a pregnancy.
Not recommended for children under 12 years
Food supplements should not be used as a substitute for avaried and balaned diet and healthy lifestyle.
Ingredients
Cymalon Cranberry Extract contains:
Cranberry fruit extract, dicalcium phosphate, maltodextrin, cellulose, cross linked sodium carboxymethylcellulose, silicon dioxide, stearic acid, magnesium stearate, talc.
You may also like