Denti-brush Interdental Brushes Wire Free Pack of 30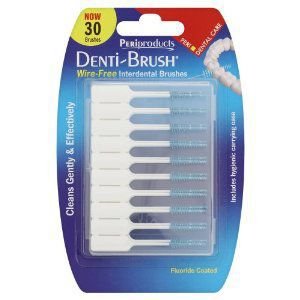 Denti-brush Interdental Brushes Wire Free Pack of 30
Description
Wire-free Denti-Brushes have a soft, flexible rubber brush head to conform to differently-sized spaces between the teeth, making it exceptionally comfortable and gentle to use. It has no metal parts, so 'galvanic' effect is avoided.
Denti-Brush is a breakthrough in the design of interdental brushes.
- Comfortably and effectively clean between teeth
- Breakthrough design
- Rubber brush – metal free
- Gently massages gums
- Soft and flexible, adapts to even the smallest spaces
- Ideal for implants
- Fluoride coated to protect against tooth decay
Directions
Use regularly to help keep your teeth and gums healthy, to protect against gum disease and tooth decay and to keep your breath fresh.
Warnings
Excesseive flexing of the tip may cause the end to break off.
Ingredients
There are no ingredients listed for this product.
You may also like