Dylon Washing Machine Dye Pod Smoke Grey 350g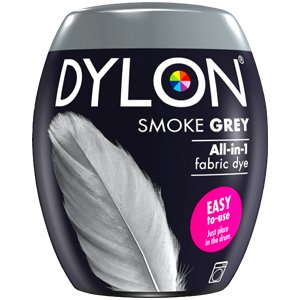 Dylon Washing Machine Dye Pod Smoke Grey 350g
£3.99 Save: £-3.99 Was: £4.99
This product is typically dispatched within 1-3 working days from date of order when using our standard delivery or 48 Hour Tracked and Signed service.
Brand: Dylon
Code: 2204433
Weight: 350g (includes packaging)
Description
From all colours bright & beautiful to rich & intense shades, with Dylon Fabric Dyes for machine use you have all the colours of the rainbow to choose from. These dyes are simply bursting with a whole spectrum of colourful possibilities, so if you feel like a change, you can wake up your wardrobe, revive a faded top or brighten some cushion covers, with colour & ease.​
Directions
The shade you achieve will depend on 3 things:
FABRIC TYPE
Cotton, linen & viscose will dye to full shade
Polyester/cotton & polyester/viscose mixes will dye to lighter shade
Wool, silk, polyester, acrylic, nylon & fabric with special finishes e.g. 'dry clean only', cannot be dyed
FABRIC AMOUNT
One pack will dye up to 600g of fabric (e.g. jeans, bath towel, double sheet) to the full shade & up to 1.2kg of fabric (e.g. double duvet) to lighter shade
Multiple packs will dye larger amounts to full shade, e.g. 2 packs for 1200g (e.g. double duvet) or 4 packs for 2kg (e.g. curtains)
ORIGINAL FABRIC COLOUR
You can change one strong colour to another (or dye it to a lighter shade) by using DYLON PRE-DYE which lightens before you dye, ready for colour change. • Otherwise colour mixing rules apply, e.g. blue dye on red fabric gives purple
Patterned fabric will often still show through

First, weigh dry fabric to ensure you have sufficient dye. Once you are ready:
Put damp fabric into the drum
Just peel off lid, put the Pod directly into the drum of the washing machine and run 40C or 30C cycle
Run another 40C or 30C cycle with detergent
Dry fabric away from direct heat & sunlight.
Dylon's promise: This dye won't damage your machine or affect subsequent washes.
HELPFUL HINTS
Use in front loading automatic washing machines. Do not use in launderette machines.
Don't dye more than half machine's maximum load to avoid crowding which will give patchy results
Don't use more than five packs of dye at once You do not need to add salt with the new DYLON PODS 350g packs of Machine Dye
Dyeing may not cover stains, faded areas or bleach marks
Should any dye be left in machine after dyeing, add cup of bleach to drum, add detergent as usual & run machine empty on 40°C cycle
After dyeing, wash separately or with similar colours for first two washes to remove any excess dye
Polyester stitching will not dye Always read the full instructions in pack before use.
Warnings
Take care when using any of the dyes. In case of contact or ingestion, please follow the instructions below:
Skin contact: Wash immediately with plenty of soap and water.
Eye contact: Bathe the eye with running water for 15 minutes. Consult a doctor.
Ingestion: Do not induce vomiting. Wash out mouth with water. If conscious, give half a litre of water to drink immediately. Consult a doctor.
Inhalation: Remove casualty from exposure ensuring one's own safety whilst doing so.
Store in cool, well ventilated area.
Ingredients
Sodium Carbonate, C.I. Reactive Yellow 125, C.I. Reactive Black 5, C.I. Reactive Red 159, C.I. Reactive Blue 225, Disodium Metasilicate.
You may also like