Emergen-C Energy & Immunity Strawberry Sachets Pack of 8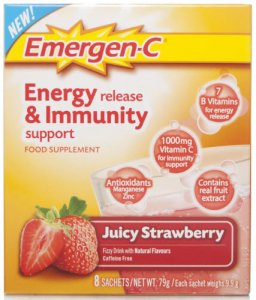 Emergen-C Energy & Immunity Strawberry Sachets Pack of 8
£4.49 Save: £0.50 RRP: £4.99
This product is typically dispatched within 3-5 working days from date of order and is not suitable for our next day delivery service.
Brand: Emergen-C
Code: 3886009
Weight: 100g (includes packaging)
Description
Emergen-C features essential nutrients, including 1,000mg of vitamin C and other immune supporting antioxidants, zinc and manganese, 7 B vitamins to enhance energy naturally, and electrolytes to replenish after a workout.
ANTIOXIDANTS
Antioxidants help protect your cells against the effects of free radicals, which can damage cells.
Vitamin C is essential in maintaining a healthy immune system, and is critical to the formation of collagen, a structural protein that supports the skin and internal organs.
Zinc is crucial to the immune system. It helps maintain white blood cell activity, and helps support antioxidant protection.
Manganese is an essential trace mineral needed for healthy skin, bone, and cartilage formation.
B VITAMINS
B vitamins play a key role in metabolism for energy in a daily diet.
Thiamin (B1) plays a key role in the body's metabolic cycle for generating energy; helps in the metabolism of carbohydrates; and helps maintain a healthy nervous system.
Riboflavin (B2) is critical in breaking down carbohydrates, proteins, and fats so your body can use them for energy and repair.
Niacin (B3) is a component of coenzymes that are involved in producing energy and building larger molecules such as fatty acids and some life-sustaining hormones.
Vitamin B6 plays a role in forming energy-rich compounds and niacin, red blood cell and fat metabolism, nervous system functions, and modulation of hormones. Vitamin B6 is a dietarily important nutrient because the body cannot make it.
Folic Acid (B9) produces healthy effects in the body and cells by functioning with enzymes. Folic acid works with two other B vitamins, B12 & B6, to help maintain healthy levels of homocysteine, an amino acid, in the blood.
Vitamin B12 is used in helping metabolize food for energy and making healthy red blood cells. Healthy red blood cells help carry oxygen to cells and may help promote feelings of energy.
Pantothenic Acid (B5) is an essential nutrient. A form of pantothenic acid is used in the body to help generate energy from fat, carbohydrates, and proteins.
ELECTROLYTES/OTHER NUTRIENTS
Electrolytes and energy metabolism minerals support healthy hydration and support energy production and use. Electrolytes can be lost through sweating during exercise.
Calcium supports healthy hydration, muscle function, and also plays a critical role in the electrical conduction system of the heart.
Magnesium supports healthy hydration and muscle function. Over three hundred enzymes require magnesium as a cofactor.
Sodium supports healthy hydration, nerve and muscle function, and blood pH.
Potassium supports healthy hydration and is especially important for normal muscle contraction.
Phosphorus is an essential element used in the body as a structural component and participates in energy production and storage.
Directions
Pour the powder into a glass of water, stir and drink.
Warnings
If you are pregnant, nursing, or taking medication consult your doctor before use.
Keep out of reach of children.
Store at room temperature. Protect from moisture.
Do not use if packet seal is torn or broken.
Ingredients
Vitamin C (as ascorbic acid, zinc ascorbate, chromium ascorbate), Thiamin (as thiamine hydrochloride), Riboflavin (as riboflavin 5'-phosphate sodium),Niacin, Vitamin B6 (as pyridoxine hydrochloride), Folic Acid, Vitamin B12 (as cyanocobalamin), Pantothenic Acid (as calcium pantothenate), Calcium (as calcium carbonate, calcium phosphate, calcium pantothenate), Phosphorus (as potassium phosphate, calcium phosphate, sodium phosphate), Magnesium (as magnesium hydroxide, magnesium carbonate), Zinc (as zinc ascorbate), Manganese (as manganese gluconate), Chromium (as chromium ascorbate), Sodium (as sodium bicarbonate, sodium phosphate), Potassium (as potassium bicarbonate, potassium carbonate, potassium phosphate), Alpha Lipoic Acid, Quercetin, Fructose, Citric Acid, Fruit Juice Solids (Strawberry) (colour and flavour), Maltodextrin, Sucrose, Malic Acid. Contains <2% of: Beet Juice Concentrate (colour), Corn Syrup Solids, Glycine, L-Aspartic Acid, Natural Flavours, Silicon Dioxide, Stevia Leaf Extract, Strawberry Juice Concentrate (colour and flavour), Tartaric Acid.
You may also like