Ener-G Gluten Free Xanthan Gum 170g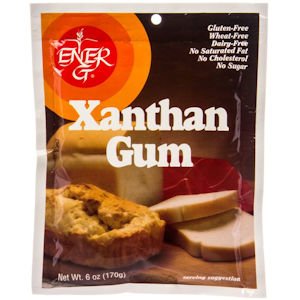 Ener-G Gluten Free Xanthan Gum 170g
£10.19
Brand: Ener-G
Code: 2724318
Weight: 270g (includes packaging)
Description
Xanthan Gum is a gluten free binding agent derived from fermented corn sugar. Xanthan gum is a typical ingredient found in yogurt, ice cream, and salad dressing for its thickening, stabilizing, and emulsifying properties. In gluten free baking, Xanthan Gum is used as a gluten replacement, as it gives dough a similar "stickiness" that gluten-free flours lack on its own.
Directions
Breads - 1 to 1 1/2 tsp per cup of flour
Pizza Crusts - 2 tsp per cup of flour
Salad Dressings - 1/8 to 1/4 tsp per cup of liquid
Cookies & Cakes - 1/4 tsp per cup of flour
Muffins & Quick Breads - 3/4 tsp per cup of flour
Thickener for Sauces - 1 tsp in place of each tablespoon of original thickener
Warnings
This is a dry product and does not require refrigeration or freezing. Opened or unopened, this product should be stored in a cool, dry area and has a 3 year shelf life from the production date.
You may also like