Frio Cooling Wallet Small Purple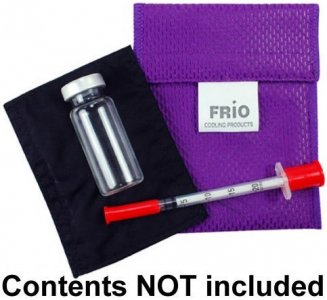 Frio Cooling Wallet Small Purple
£12.49
This product is typically dispatched within 3-5 working days from date of order and is not suitable for our next day delivery service.
Brand: Frio
Code: 8130593
Weight: 175g
Description
Keeps in-use insulin and temperature sensitive medication cool and safe
Simply activate with cold water
Light and compact
Reusable
Suitable for carrying the following combinations of vials and cartridges as follows:
10 x 3 ml cartridges; or
10 x 1.5 ml cartridges; or
3 x 10 ml vials (bottles).
Note: it is recommended that a waterproof liner is used with any electronic timing device or any accessory with electronic components to protect it from moisture.
Inner wallet dimensions: 16 cm (H) x 13.5 cm (W); 6.25" (H) x 5.25" (W)
Outer cover dimensions: 1.0-1.5 cm (0.25"-0.75") taller and wider then the inner wallet dimensions stated.
Directions
No directions of listed for this product.
Warnings
No warnings are listed for this product.
Ingredients
No ingredients are listed for this product.
You may also like