Gillette Mach 3 Turbo Razor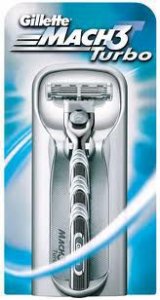 Gillette Mach 3 Turbo Razor
Description
Forward-pivoting cartridge head
Redesigned ergonomic handle
The Gillette Mach3 Turbo provides men with the closest and most comfortable shave with less irritation, even when shaving against the grain.
Indicator Lubricating strip – a patented Indicator Lubricating strip on Mach3 Turbo releases more lubrication over a greater number of shaves, improving razor glide. The green strip fades with use to signal when you are no longer getting the optimal Mach3 Turbo shave.
Anti-Friction Blades – this patented blade technology reduces the cutting force, allowing Mach3 Turbo to glide through beard hair with less resistance, removing more of each hair. The three blades are specially positioned to extend gradually closer to your beard – shaving you progressively closer in a single stroke. The Mach 3 Turbo open cartridge architecture makes rinsing and cleaning the blade easier than ever.
Enhanced Microfins – a configuration of soft, protective microfins proceeds the blades, gently smoothing down your skin so the blades shave evenly and effortlessly even against the grain.
Forward Pivot – Mach3 Turbo's forward-pivoting cartridge head ensures that the three blades always remain in the optimal shaving position – so you can get the best manual shave ever, stroke after stroke.
Easy Loading – single point docking makes changing your Mach3 Turbo blades a snap.
Improved Razor Handle – textured rubber grips and metal groves in the redesigned Mach3 turbo handle improves the sureness of the grip and provides better handling and control throughout your shave.
Directions
Trim hair with clippers or scissors if you're starting with a full beard. Electric clippers are best for this purpose.
Wash your face with an exfoliant facial wash. Some people like to use a hot wash cloth. The heat and moisture will help to soften your beard (if you have one) and lift up the hairs, as well as open your pores. However, be careful that the water isn't too hot. Hot water slackens skin and pulls moisture away.
Have your shave kit ready for when you finish washing your face so you can start right away before your beard has a chance to dry and your pores have a chance to close. If you're using a disposable razor, fill the wash basin with cold water and drop it into the sink to let it soak (hot water will only make the blade expand and be duller).
Put a few drops of shaving oil in the palm of your hand and rub it into your beard before applying the shaving cream, this will allow the razor to glide across your skin and will help to reduce razor burn.
Apply your choice of shaving cream with a shaving brush. The brush will further help to soften your beard and exfoliate your skin. It also helps to float the whiskers out away from the blades while you are shaving. If you're short on shaving cream, gel or foam, use conditioner or speciality shaving oil. Letting the lubricant sit on your face for up to a minute can amplify its effects. Avoid using a bar of soap, as this can leave a residue on the blade, dulling the edge and eventually causing rusting even on stainless blades. At a push, you can use a liquid soap as these are formulated differently.
Pick the right blade. Your choice of blade should be made individually, but you should take into account the coarseness of your beard, the texture of your skin, your preferred shaving method, and other details. For heavy bearded men with more sensitive skin, it is generally good to use a multiple-blade razor.
Start with one side of your face and work steadily towards the other side, doing small sections at a time. This way you won't miss anything. Use short, light, downward strokes (with the grain), keeping the flat of the blade almost parallel with the face, to remove the bulk of the hair. Use your free hand to pull your skin tight. Rinse the blade often to keep it from clogging. Swirl it around in the filled sink and tap the razor against the side of the sink to free up beard trimmings. Continue until you have shaved your entire face in a downward direction.
Rinse your face with warm water and then run your fingers over your face to find any rough areas that you may have missed. Look for missed patches near sideburns, around your mouth and close to your nostrils. Apply shaving cream and gently pass the blade over the area in a different direction (e.g. across the grain) but not directly against the grain. Pay special attention to hairs on your neck and jawline, which generally do not grow straight up or down, but in many different directions that simple up and down motions can miss.
Rinse your face in cool water and pat dry with a clean towel. Apply a non-alcohol shaving balm. Aloe and tea tree oil can help prevent dry skin and razor burn. However, if you are going to use Tea Tree Oil, it should be at a very low concentration, since it's potentially irritating to freshly-shaved skin.
Soothe any nicks or small cuts after shaving by drenching your face in cold water. This will help to close up the cuts and stop bleeding, you can then apply witch hazel to soothe the cuts and prevent razor burn. Then add small pieces of moistened kitchen paper or toilet roll to the cuts that still bleed.
Buy a styptic pencil if you are susceptible to nicks and cuts. When using a styptic pencil, simply wet and gently spread across the area where the nick occurred. The material on the pencil will constrict the blood vessels near the cut and block anymore blood from coming out.
ake care of your shaving implements. Rinse and dry your equipment thoroughly, and store in a dry place. Clean equipment is less likely to introduce bacteria and infection to your open, freshly shaved pores. Change the blades as needed. A dull blade will leave your face feeling raw and sore, and is much more likely to cause razor burn.
Warnings
Age Restriction
You must be at least 16 years old to purchase this product.
Keep out of the reach of children.
Ingredients
There are no ingredients listed for this product.
You may also like