HealthAid Depilatory Microwaveable Wax 425g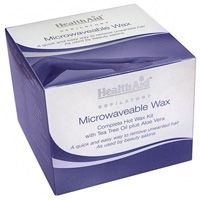 HealthAid Depilatory Microwaveable Wax 425g
£12.29 Save: £2.70 RRP: £14.99
This product is typically dispatched within 3-5 working days from date of order and is not suitable for our next day delivery service.
Brand: Healthaid
Code: 3091915
Weight: 425g
Description
*** PLEASE NOTE: WE HOLD LIMITED STOCK OF THIS PRODUCT AND MAY INCUR A 3 - 5 WORKING DAY LEAD TIME FOR MORE STOCK TO ARRIVE. IF YOU REQUIRE FURTHER INFORMATION PLEASE CONTACT OUR CUSTOMER SERVICE TEAM (www.weldricks.co.uk/customer-care) ***
What Is Depilatory Microwaveable Wax Kit?
Depilatory Microwaveable Wax Kit is a microwaveable wax, which is convenient to use.

Heat in microwave for a short time only for safe use.

A quick and easy way to remove unwanted hair. As used by beauty salons.
What Is Depilatory Microwaveable Wax?
Depilatory Microwaveable Wax is part of the new depilatory range that contains all natural ingredients for safe and harmless hair removal for women, girls and men. Available in unique attractive packaging that is convenient for travelling and storing, and an easy to follow instruction leaflet containing illustrations and written in four different languages English, French, German and Arabic.
Depilatory Microwaveable Wax is ideal for home or professional use. Easy to use and a quick and gentle way to remove unwanted hair. Most importantly it is all-natural. All products are free off animal testing. Waxes and hair removers give you smooth results that last up to eight weeks.
Unlike razors which only trim hair at the surface, wax removers lift away the entire hair with the bulb of the root, so it can take up to eight weeks for hair to grow back. Re-growth is usually softer, sparser and finer-textured, without rough razor stubble. Your skin is sleek, smooth and hair-free much longer than shaving.
Depilatory Microwavable Wax is a quick and effective way to remove unwanted hair. Regular waxing will progressively weaken the growth of the hair making its removal quicker and easier. Within minutes you can have the confidence of smooth, soft, feminine skin, which will last up to six weeks. Suitable for use on the face and the whole body.
Who Should Use Depilatory Microwaveable Wax?
Suitable for young girls, women and men
People who are looking for quick and easy hair removal on a day to day basis
Great for women who travel and require hair removal at their convenience
People who simply wish to be hair free at all time
Directions
BEFORE WAXING
Make sure your skin is clean, dry and free from any creams, oils or lotions. If your skin does feel slightly greasy, dust lightly with talc powder.
Place the whole container preferably with the lid in the microwave on high for approximately 2 minutes until the wax has completely melted. Do not use over a naked flame. Use a safety mitt to hold container and carefully twist the lid off.
Leave the wax to cool slightly until the correct consistency and temperature is reached for application. Stir the melted wax with the spatula provided first test on a small area of the hand or wrist to make sure that the wax is not too hot. When the wax is ready, spread the wax with the spatula against the direction of the hair growth, applying sufficiently to cover an area of the hair to be depilated not exceeding the size of the palm of your hand.
Do not allow the wax to dry on the skin. When the wax no longer sticks on touching, but has not hardened too much, place the wax strip over the area press firmly and pull against the direction of the hairs. Repeat as required. You should now have a perfect depletion.
Should any residue of wax be left on the skin, this can be removed with baby oil.
As with any wax salon treatment, slight momentary discomfort may be experienced when the wax is removed and the skin may turn pink for a short time after the treatment. This is quiet normal and will soon disappear. It is recommended that a patch test be done 24 hours prior to use.
Important Note:
When repeating treatment it is recommended to keep the container lid on whilst microwaving for easy opening. After usage, store upright and lubricate container with baby oil to avoid any stickiness.
No animal based products or animal testing
Made from natural ingredients
Hypoallergenic
Warnings
Never use Hot Wax immediately after showering or bathing. Hot Wax should not be used on people suffering from the following conditions: Sunburn, Eczema, Varicose Veins, Loose or damaged skin, Diabetes, Circulatory problems or any other skin ailments, unless advised by a suitably qualified Beautician.
KEEP OUT OF REACH AND SIGHT OF CHILDREN.
ALWAYS READ THE LABEL.
Ingredients
Glyceryl rosinate, Paraffinum liquidum, Colophonium, Titanium Dioxide, Tea Tree Oil (Melaleuca alternifolia), Aloe Vera Oil (Aloe barbadensis), Colourant Green 7C174260.
You may also like