HealthAid Haemovit Capsules Pack of 30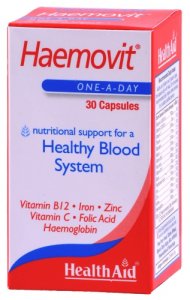 HealthAid Haemovit Capsules Pack of 30
Description
*** PLEASE NOTE: WE HOLD LIMITED STOCK OF THIS PRODUCT AND MAY INCUR A 3 - 5 WORKING DAY LEAD TIME FOR MORE STOCK TO ARRIVE. IF YOU REQUIRE FURTHER INFORMATION PLEASE CONTACT OUR CUSTOMER SERVICE TEAM (www.weldricks.co.uk/customer-care) ***
What Are Haemovit Capsules?
Haemovit Capsules combines Iron, zink, B12, B6, Haemoglobin and range of important nutrients to provide nutritional support for a healthy blood system. It helps maintain healthy red blood cell development and good oxygen circulation in the body.
What Are Haemovit Capsules For?
Very efficient to avoid heavy blood loss during anaemic condition and menstruation cycle.
Improves absorption of iron in the body
Helps in cell replication and red blood cell formation
Strengthen blood vessels, bones, tendons
May help improve blood circulation
Help building healthy neurons or nerve system
May improve heart health
May help improve hair and skin condition and keep them fertile
Who Are Haemovit Capsules For?

Haemovit Capsules may be of benefit to;
People who suffer from iron-deficiency anaemia;
Women with heavy menstruation
People who follow a vegetarian diet and people who have poor nutrition habits
People who suffer from neurological or cardiovascular disorders, fatigue and depression
Pregnant women (only after consulting with the doctor)
Directions
Adults and children over 12 years of age:
One capsule daily with food.
Warnings
Do not exceed recommended daily intake unless advised by a suitably qualified person.
The iodine content in kelp products varies considerably, even between products of the same brand. Hypo- and hyperthyroidism disorders have been attributed to the use of kelp products. It is advised against the concurrent use of levothyroxine and kelp products. Kelp products should be avoided in patients suffering from thyroid disorders regardless of whether they are taking thyroid supplementation or not as kelp can aggravate existing thyroid disorders and alter Thyroid Function Tests (TFTs).
KEEP ALL MEDICINES OUT OF REACH AND SIGHT OF CHILDREN.
ALWAYS READ THE LABEL.
Ingredients
Bulking Agent (soybean oil, veg. shortening, yellow beeswax), Capsule Shell [gelling agent (gelatine), humectants (purified water, glycerol), natural colours (titanium dioxide, sunset yellow, cochenille red)], Iodine (kelp), Vitamin C (ascorbic acid), Haemoglobin, Iron (ferrous sulphate), Zinc (zinc sulphate), Panthotenic Acid (calcium pantothenate), Niacin (niacinamide), Emulsifier (lecithin), Vitamin B6 (pyridoxine HCL), Vitamin A (palmitate), Riboflavin (vitamin B2), Thiamin (vitamin B1), Vitamin D2 (ergocalciferol), Vitamin B12 (cyanocobalamin), Folic Acid, Biotin.
You may also like