HealthAid Healthy Mega Tablets Pack of 30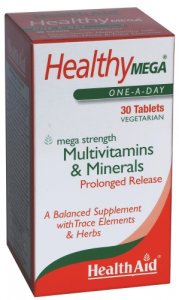 HealthAid Healthy Mega Tablets Pack of 30
£7.09 Save: £2.90 RRP: £9.99
This product is typically dispatched within 1-3 working days from date of order when using our standard delivery or 48 Hour Tracked and Signed service.
Brand: Healthaid
Code: 2417350
Weight: 175g (includes packaging)
Description
*** PLEASE NOTE: WE HOLD LIMITED STOCK OF THIS PRODUCT AND MAY INCUR A 3 - 5 WORKING DAY LEAD TIME FOR MORE STOCK TO ARRIVE. IF YOU REQUIRE FURTHER INFORMATION PLEASE CONTACT OUR CUSTOMER SERVICE TEAM (www.weldricks.co.uk/customer-care) ***


Suitable for vegetarians and vegans.
What Are Healthy Mega Prolonged Release Tablets?
Healthy Mega Prolonged Release Tablets are a combination of 14 vitamins, 12 minerals, 4 digestive enzymes, 3 bioflavonoids and seven micronutrients in a synergistically balanced, prolonged release one-a-day formulation to ensure optimal nutritional needs are met.
The demands placed upon people living in this century leading busy lifestyles, with no time to prepare nutritious meals, people often resort to convenience foods which are usually high in fat, and overcooked meals which destroy the vital vitamins and minerals essential to maintain good health. HealthAid Healthy Mega is an excellent supplement, which may help to optimise your daily nutrient levels. The unique formula contains Vitamins and Mineral complexes with Digestive Enzymes, Antioxidants, and Full Potency Herbs. Mineral supplements play a crucial role in our metabolic processes and also in the production of energy. Digestive Enzymes are necessary to helps Breakdown Proteins, Carbohydrates, Fats and the extraction of vital nutrients.
What Are Healthy Mega Tablets for?
Helps maintain general health & well-being
May help to improve digestive functioning
May boost immunity & increase energy levels
May provide supplementation whilst on weight management programme
Who needs to use Healthy Mega Tablets?
Busy executives who skip meals during a stressful working day
People having poor diets which lack sufficient daily nutrient intake
Ideal for those who find it difficult to digest dietary foods
Those who are on a loss of weight programme.
How Do Healthy Mega Tablets Work?
Healthy Mega Tablets contain 42 ingredients at a superior potency to other brands, this includes 14 vitamins, 12 minerals, 4 digestive enzymes, 3 bioflavonoids, 4 herbs & 7 other micro-nutrients all combined to form a potent all round supplement for daily use.
Directions
Adults and children over 12 years of age:
One tablet daily.
Warnings
Do not exceed recommended daily intake unless advised by a suitably qualified person.
The iodine content in kelp products varies considerably, even between products of the same brand. Hypo- and hyperthyroidism disorders have been attributed to the use of kelp products. It is advised against the concurrent use of levothyroxine and kelp products. Kelp products should be avoided in patients suffering from thyroid disorders regardless of whether they are taking thyroid supplementation or not as kelp can aggravate existing thyroid disorders and alter Thyroid Function Tests (TFTs).
KEEP ALL MEDICINES OUT OF REACH AND SIGHT OF CHILDREN.
ALWAYS READ THE LABEL.
Ingredients
Vitamin C (ascorbic acid), Bulking Agent (microcrystalline cellulose, maltodextrin, di-calcium phosphate, corn starch), Calcium (calcium carbonate), Niacin
(niacinamide), Inositol, Riboflavin (vitamin B2), Natural Vitamin E (d-alpha tocopherol acetate), Thiamin Hydrochloride (vitamin B1), Pantothenic Acid (calcium pantothenate), Anti-caking Agent (veg. stearic acid, veg. magnesium stearate, magnesium silicate), Citrus Bioflavanoids, PABA (para amino
benzoic acid), Stabiliser (crosscarmellose sodium), Choline (choline bitartrate), Magnesium (magnesium oxide), Binding Agent (acacia), Silica, Betaine Hydrochloride, Potassium (potassium chloride), L-Glutamic Acid, Rutin, Vitamin B6 (pyrodixine hydrochloride), Iron † (ferrous fumarate), Alfalfa Leaf Powder (medicago sativa), Kelp, Lecithin, Hesperidin Complex, Guar Gum Seed (cyamopsis tetragonoloba), Zinc (zinc oxide), Golden Seal Root (hydrastis canadensis), Papain, Horsetail Extract (equisetum arvense), Bromelain, Apple
Pectin, Glazing Agent (pharmaceutical glaze), Manganese** (manganese sulphate), Sweetener/Flavour Enhancer (mannitol, glycine), Copper (cupric oxide), Acidity Regulator (aspartic acid, citric acid), D-Biotin, Folic Acid, Vitamin A Acetate, Iodide (potassium iodide), Chromium (chromic chloride), Vitamin B12 (cynocobalamin), Boron (sodium borate), Selenium (sodium selenate), Vitamin K (phytonadione), Vitamin D (cholecalciferol), Molybdenum (sodium molybdate).
You may also like