HealthAid Oro-tan Tablets Pack of 60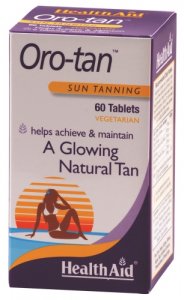 HealthAid Oro-tan Tablets Pack of 60
Description
*** PLEASE NOTE: WE HOLD LIMITED STOCK OF THIS PRODUCT AND MAY INCUR A 3 - 5 WORKING DAY LEAD TIME FOR MORE STOCK TO ARRIVE. IF YOU REQUIRE FURTHER INFORMATION PLEASE CONTACT OUR CUSTOMER SERVICE TEAM (www.weldricks.co.uk/customer-care) ***


Sun tans look good but unfortunately, over-exposure to the sun carries the risk of skin damage. This is because potentially damaging 'free radical' molecules are produced by the skin when exposed to sunlight. To achieve that natural glowing tan without damaging the skin, HealthAid has formulated Oro-Tan which contains ingredients that may help care for the skin in sunny conditions.
Antioxidants such as Beta-Carotene and Grapeseed Extract help neutralise free radicals in the body. Additionally the red-orange pigment of Beta-Carotene and carrot powder, which gives carrots their strong colour, may slightly enhance a tan to give the skin a natural glowing tone.
Who are Orotan tablets?
Orotan tablets may be of benefit to:
People who wish to maintain healthy skin
Those that want skin protection whilst on a holiday
People who wish to protect their skin against UV damage
Those who are exposed to a lot of sunlight
People that want to enhance a tan
Those who want to achieve healthy glowing skin
People who wish to prevent premature skin aging
Directions
Adults and children over 16 years:
One to three tablets daily with food.
It is recommended to begin the course at least a month before going on holiday, or as advised by a suitably qualified person.
Warnings
KEEP ALL MEDICINES OUT OF REACH AND SIGHT OF CHILDREN.
ALWAYS READ THE LABEL.
Ingredients
Carrot Powder, Di-Calcium Phosphate, Para amino benzoic acid, Beta-Carotene powder, Microcrystalline cellulose, L-Tyrosine, Grapeseed Extract, Acacia, Stearic acid*, Copper Sulphate, Magnesium Stearate*.
*From vegetable Source
You may also like