Ibuprofen Suspension 100mg/5ml 100ml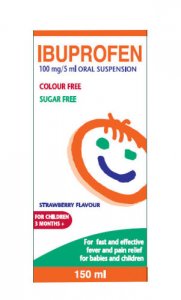 Ibuprofen Suspension 100mg/5ml 100ml
£2.09
This product is typically dispatched within 3-5 working days from date of order and is not suitable for our next day delivery service.
Brand: Fenpaed
Code: 2860229
Weight: 175g (includes packaging)
Description
Oral Ibuprofen is specially formulated suspension for babies and children from 3 months old. Ibuprofen suspension provides a fast, effective and long lasting reduction in temperature and post-immunisation fever and relieves the symptoms of colds and influenza. It soothes away the pain from teething and toothache, earache, sore throats, headache and minor aches and sprains.
Directions
Infants from 3 up to 6 months, weighing more than 5 kg:
One 2.5 ml dose may be given 3 times in 24 hours. Do not use for more than 24 hours
Infants from 6 up to 1 year:
2.5ml three to four times a day.
Children from 1 up to 4 years:
5ml three times a day
Children from 4 up to 7 years:
7.5ml three times a day
Children from 7 up to 12 years:
10ml three a day.
Doses should be given every 6 to 8 hours if required. Leave as least 4 hours between doses.
Post-immunisation fever:
2.5ml (50mg) followed by one further dose of 2.5ml (50mg) six hours later if necessary.
No more than 2 doses in 24 hours. If fever is not reduced, consult a doctor.
Do not give to children under 3 months of age.
If the child's (aged over 6 months) symptoms persist for more than 3 days, consult your doctor promptly. For children under 6 months medical advice should be sought promptly after 24 hours use (3 doses) if the symptoms persist.
Warnings
The elderly have an increased frequency of adverse reactions to NSAIDs especially gastrointestinal bleeding and perforation which may be fatal.
The use of Fenpaed Ibuprofen 100 mg/5 ml Oral Suspension with concomitant NSAIDs including cylooxygenase-2 selective inhibitors should be avoided (see section 4.5)
Systemic lupus erythematosus and mixed connective tissue disease – increased risk of aseptic meningitis (see section 4.8 Undesirable effects).
Chronic inflammatory intestinal disease (ulcerative colitis, Crohn's disease) – as these conditions may be exacerbated (see section 4.8 Undesirable effects).
Undesirable effects may be minimised by using the minimum effective dose for the shortest possible duration.
Renal impairment as renal function may further deteriorate (see sections 4.3 and 4.8)
Hepatic dysfunction (see section 4.3 and 4.8)
There is limited evidence that drugs which inhibit cyclo-oxygenase/prostaglandin synthesis may cause impairment of female fertility by an effect on ovulation. This is reversible upon withdrawal of treatment.
GI bleeding, ulceration or perforation, which can be fatal, has been reported with all NSAIDs at anytime during treatment, with or without warning symptoms or a previous history of serious GI events.
Patients with a history of GI toxicity, particularly when elderly, should report any unusual abdominal symptoms (especially GI bleeding) particularly in the initial stages of treatment.
Caution should be advised in patients receiving concomitant medications which could increase the risk of gastrotoxicity or bleeding, such as corticosteroids, or anticoagulants such as warfarin, selective serotonin-reuptake inhibitors or anti-platelet agents such as aspirin (see section 4.5).
When GI bleeding or ulceration occurs in patients receiving ibuprofen, the treatment should be withdrawn.
The risk of GI bleeding, ulceration or perforation is higher with increasing NSAID doses, in patients with a history of ulcer, particularly if complicated with haemorrhage or perforation (see section 4.3), and in the elderly. These patients should commence treatment on the lowest dose available
Administration of NSAID'S such as Ibuprofen may cause dose dependent renal toxicity in patients with reduced renal blood flow or blood volume where renal prostaglandins support the maintenance of renal perfusion. Patients at risk of this reaction include those with impaired renal function, heart failure or liver dysfunction. This is of particular importance in hypertension and/or cardiac impairment as renal function may deteriorate and/or fluid retention occur. Caution is therefore required in the use of Ibuprofen in such patients.
Ibuprofen should be used with caution in patients with bronchial asthma or allergic disease, since such patients may have NSAID – sensitive asthma which has been associated with severe bronchospasm.
Cardiovascular and Cerebrovascular effects:
Caution (discussion with doctor or pharmacist) is required prior to starting treatment in patients with a history of hypertension and/or heart failure as fluid retention, hypertension and oedema have been reported in association with NSAID therapy.
Clinical trial and epidemiological data suggest that use of ibuprofen, particularly at high doses (2400mg daily) and in long-term treatment may be associated with a small increased risk of arterial thrombotic events (for example myocardial infarction or stroke). Overall, epidemiological studies do not suggest that low dose ibuprofen (e.g. ≤ 1200mg daily) is associated with an increased risk of myocardial infarction.
Dermatological:
Serious skin reactions, some of them fatal, including exfoliative dermatitis, Stevens- Johnson syndrome, and toxic epidermal necrolysis, have been reported very rarely in association with the use of NSAIDs (see section 4.8). Patients appear to be at highest risk for these reactions early in the course of therapy: the onset of the reaction occurring in the majority of cases within the first month of treatment. Ibuprofen 100mg/5ml Oral Suspension should be discontinued at the first appearance of skin rash, mucosal lesion, or any other sign of hypersensitivity.
Ibuprofen should be used with caution in combination with:
Anticoagulants: NSAIDs may enhance the effects of anticoagulants, such as warfarin (see section 4.4).
Antihypertensives and diuretics: NSAIDs may diminish the effect of these drugs.
Diuretic can increase risk of nephrotoxicity of NSAIDs.
Corticosteroids: May increase the risk of adverse reactions in the gastrointestinal tract (see section 4.4 Special warnings).
Anti-platelets agents and selective serotonin reuptake inhibitors (SSRIs): Increased risk of gastrointestinal bleeding (see section 4.4).
Cardiac glycosides: NSAIDs may exacerbate cardiac failure, reduce GFR and increased plasma glycoside levels.
Ciclosporin: Increased risk of nephrotoxicity.
Mifepristone: NSAIDs should not be used for 8-12 days after mifepristone administration as NSAIDs can reduce the effect of mifepristone.
Tacrolimus: Possible increased risk of nephrotoxicity when NSAIDs are given with tacrolimus.
Lithium: There is evidence for potential increase in plasma levels of lithium.
Methotrexate: There is potential of an increase in plasma methotrexate.
Zidovudine: Increased risk of haematological toxicity when NSAIDs are given with zidovudine. There is evidence of an increased risk of haemarthroses and haematoma in HIV (+) haemophiliacs receiving concurrent treatment with zidovudine and ibuprofen.
Quinolone antibiotics: Animal data indicate that NSAIDs can increase the risk of convulsions associated with quinolone antibiotics. Patients taking NSAIDs and quinolone may have increased risk of developing convulsions.
Ingredients
Glycerol (E422), xanthan gum, maltitol liquid (E965), polysorbate 80, saccharin sodium (E954), citric acid monohydrate, sodium methylhydroxybenzoate, sodium propylhydroxybenzoate, purified water and strawberry flavour.
You may also like