Inecto Naturals Coconut Body Scrub 150ml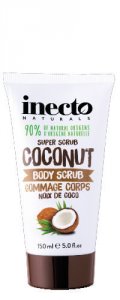 Inecto Naturals Coconut Body Scrub 150ml
Description
Remove those dry bits and leave your skin feeling clean and super silky smooth with this gorgeous natural scrub. Infused with Pure Organic Coconut Oil, it will give your dry skin just the boost it needs.
Directions
Massage on damp or wet skin, give those delicate, sensitive areas a miss. Rinse thoroughly with warm water.
Warnings
For external use only.
Avoid contact with eyes.
If contact does occur, rinse immediately with water.
If skin irritation occurs, discontinue use. If irritation persists, consult a doctor. In case of accidental ingestion, seek medical assistance.
You may also like