Isopto Alkaline Eye Drops Solution 1% 10ml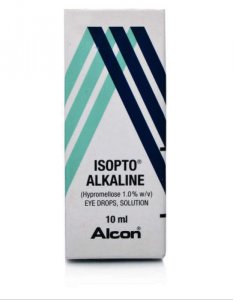 Isopto Alkaline Eye Drops Solution 1% 10ml
Description
Isopto Alkaline 10ml Eye Drops are the must have solution to dry eyes. The drops work to re-lubricate your eye providing lasting relief when used frequently. Does not require a prescription.
Directions
How to use Isopto Alkaline Eye Drops:
One or two drops in the eye(s) three times daily or as prescribed.
Warnings
Warning for Isopto Alkaline Eye Drops:
If irritation persists or increases or headache, eye pain, vision changes or continued redness occur, discontinue use and consult a physician.
Do not wear soft contact lenses whilst using this product.
Do not touch dropper tip to any surface since this may contaminate the solution. Keep out of reach and sight of children.
Do not store above 25C. Do not refrigerate. Keep container tightly closed. Discard 1 month after opening.
For external use only.
For further information see enclosed leaflet.

You should carefully read all product packaging and labels prior to use
You may also like