Jungle Formula Lotion For Sensitive Skin 175ml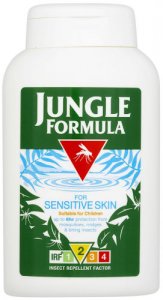 Jungle Formula Lotion For Sensitive Skin 175ml
£6.29 Save: £1.36 RRP: £7.65
Brand: Jungle Formula
Code: 3578606
Weight: 208g (includes packaging)
Description
Wherever you're going, whatever protection you need, Jungle Formula has the right products for you.
To help make choosing from our range even easier, we've introduced the Insect Repellent Factor system.
Jungle Formula is the only brand of insect repellent with specific formulations for different needs and destinations. Just look out for the new labelling and numbering system.
Insect Repellent Factors available:
IRF 2 – Sensitive Skin – great for sensitive skin or for young children, this range gives you great protection without irritation
IRF 3 – Natural – made with 40% oil of lemon eucalyptus for a more natural protection against biting insects
IRF 3 – Medium – ideal for use by adults and children over 3, at home or on short-haul holidays
IRF 4 – Maximum – for use when visiting long haul and high disease-risk destinations or if you're prone to bites, Maximum provides up to 12 hours defenceJungle Formula Lotion for Sensitive Skin contains jojoba to sooth the skin as well as a specific non-sensitising fragrance.
Jungle Formula Sensitive contains 20% IR3535 and is alcohol-free with aloe-vera.
Non-greasy
Up to 6 hours protection
Suitable for adults and children from 12 months
Directions
Reapply as necessary, depending on conditions, as high temperature, humidity and other environmental factors can reduce the duration of protection of all insect repellents.
Warnings
For external use only. Harmful if swallowed.
Avoid contact with eyes, lips and damaged skin.
In the unlikely event of any skin reaction, discontinue use.
Please use insect repellent safely. Always read the label and product information before use.
Store in a cool dry place.
Keep out of reach of children.
Ingredients
Aqua, Alcohol Denat, Methyl-2 Propanediol-1-3, Ethyl Butylacetylaminopropionate, Dimethicone Copolyol, Isononyl Isononanoate, Sodium Methacrylate Styrene, Phenoxyethanol, Tetrahydroxypropylethylenediamine, PVA/MA Decadiene Crosspolymer, Imidazolidinyl Urea, Tetrasodium EDTA, Allantoin, Bisabolol, Fragrance
You may also like