Kira Pms Relief Tablets Pack of 30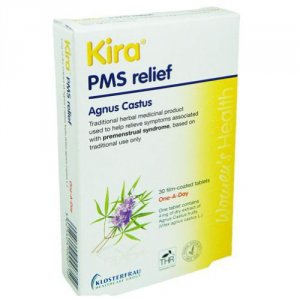 Kira Pms Relief Tablets Pack of 30
Description
Kira PMS Relief is a traditional herbal medicinal product used to help relieve symptoms associated with premenstrual syndrome.
Directions
Take one tablet daily. Swallow the tablets whole with liquid. The tablets should be taken at the same time of day if possible (morning or evening).
Warnings
Do not exceed the stated dose.
Do not use if you are:
allergic to any of the ingredients
pregnant or breastfeeding
under 18
suffering from a pituitary disorder
Ingredients
Active Ingredient: 4 mg of dry extract of Agnus Castus fruits (Vitex agnus castus L.) equivalent to 28­-52 mg of Agnus Castus.
Extraction solvent: Ethanol 60% v/v (Drug extract ratio 7-13:1)
This product contains liquid glucose and lactose monohydrate.
You may also like