Lamberts Green Coffee & Chilli Complex Tablets Pack of 60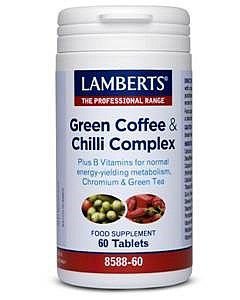 Lamberts Green Coffee & Chilli Complex Tablets Pack of 60
Description
*** PLEASE NOTE: WE HOLD LIMITED STOCK OF THIS PRODUCT AND MAY INCUR A 3 - 5 WORKING DAY LEAD TIME FOR MORE STOCK TO ARRIVE. IF YOU REQUIRE FURTHER INFORMATION PLEASE CONTACT OUR CUSTOMER SERVICE TEAM (www.weldricks.co.uk/customer-care) ***

Suitable for vegetarians.

This product is designed for those following a calorie controlled diet. In order to lose weight there is no alternative to restricting your calorie intake so that you consume fewer calories than your body is using. The body therefore has to make up the difference by burning fat. And anything you can do to reduce your calorie intake, or increase the rate you burn fat (such as exercise) will therefore help speed up the process of losing weight.
Lamberts have included 400mg of a decaffeinated green coffee extract that contains high levels of active compounds called chlorogenic acids; and one in particular called 5-caffeoylquinic acid. It is specifically made from unroasted coffee beans, because the normal roasting process destroys many of the natural compounds. Plus they have incorporated a full 100mg of chilli extract that provides 2mg of capsaicinoids. Research has shown that it is the capsaicinoids that aid the breakdown of fat in the body and that 2mg is a relevant level.
Lamberts have also included the B vitamins for normal energy-yielding, as well as a significant 200µg of chromium which contributes to the maintenance of both normal blood glucose levels and to normal macronutrient metabolism. Green tea has become a popular choice for slimmers, who can include it as part of their calorie controlled diet, so we have also included this herb in our product.
Directions
Take 2 tablets daily with a meal, or as directed by a practitioner or pharmacist.
Warnings
Do not exceed recommended daily dose.
Food supplements should not replace a balanced diet and healthy lifestyle.
Do not take if pregnant or breast feeding.
Ingredients
DiCalcium Phosphate, Cellulose, Calcium Carbonate, Decaffeinated Green Coffee Extract, Capsicum Extract, Tablet Coating(Hydroxypropyl Methylcellulose, Cellulose, Colours: Iron Oxide &Titanium Dioxide), Crosslinked Cellulose Gum, Green Tea Extract, Silicon Dioxide, Stearic Acid, Magnesium Sterate, Pantothenic Acid(Cacium Pantothenate), Chromium Picolinate, Vitamin B6(Pyridoxine Hydrochloride)Riboflavin, Thiamine Mononitrate, Vitmin B12 (Cyanocobalamin).
You may also like