L'Oreal Age Perfect Re Hydrating Night Cream 50ml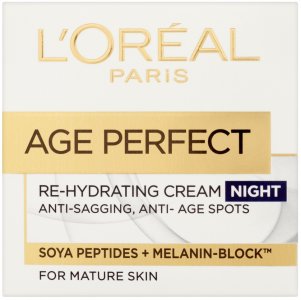 L'Oreal Age Perfect Re Hydrating Night Cream 50ml
Description
Collagen is naturally responsible for the firmness of the skin. With age and hormonal changes, the metabolism of the skin slows down, collagen production progressively diminishes and facial tissues start to sag. The L'Oréal Laboratories have created AGE PERFECT anti-sagging programme for mature skin to firm up the fabric of the skin. ACTIONS Nourishing action enriched with natural oils to compensate for loss of lipids in the skin. AGE PERFECT provides lasting nourishment and leaves the skin feeling totally comfortable and supple. Anti-sagging action. AGE PERFECT has been specially developed to firm up the fabric of the skin. It contains Collagen Boost to stimulate the production of collagen* and DermoPeptide™ to reinvigorate cells and help improve cell cohesion. It helps "plump up" the fabric of the skin. Regenerating action.
Directions
Rich but incredibly light, the texture is quickly absorbed and gives you a feeling of wellbeing. AGE PERFECT is a night cream for everyday use on the face and neck.
Warnings
In case of contact with eyes, rinse immediately.
For external use only.
You may also like