Lubristil Lubricating Eye Gel Pack of 20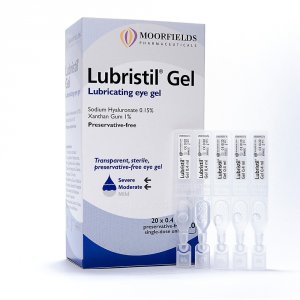 Lubristil Lubricating Eye Gel Pack of 20
£9.49
This product is typically dispatched within 3-5 working days from date of order and is not suitable for our next day delivery service.
Brand: Lubristil
Code: 3718681
Weight: 100g (includes packaging)
Description
Lubristil Gel gives relief to the symptoms of ocular dryness of different origin. Lubristil Gel is also indicated for the medication of wounds and abrasions of the ocular surface caused by traumatic events and following surgery or associated with lachrymal tear film alterations.
Lubristil Gel contains two natural polymers, sodium hyaluronate and xanthan gum. After instillation in the conjunctival sac, Lubristil Gel mixes with tears and forms a lubricating, viscous and transparent layer which, reducing friction due to eye movements and blinking, alleviates the symptoms of ocular dryness due to environmental and climatic conditions such as pollen, dust, glare, pollution and computer monitor use.
In the same way, the product grants protection to the ocular surface during the healing process following wounds or abrasions. The absence of preservative makes the product better tolerated.
Directions
One drop in each affected eye.
Warnings
If irritation persists or increases or headache, eye pain, vision changes or continued redness occur, discontinue use and consult a physician.
Do not wear soft contact lenses whilst using this product.
Do not touch dropper tip to any surface since this may contaminate the solution. Keep out of reach and sight of children.
Do not store above 25C. Do not refrigerate. Keep container tightly closed. Discard 1 month after opening.
For external use only.
For further information see enclosed leaflet.
You should carefully read all product packaging and labels prior to use
Ingredients
Sodium Hyaluronate, Xanthan Gum, Sodium Chloride, Potassium Chloride, Magnesium Chloride Hexahydrate, Calcium Chloride Dihydrate, Disodium Phospahte Dodecahydrate, Monobasic Sodium Phosphate Monohydrate, Sodium Citrate, Glycerol, Purified Water.
You may also like