Maalox Suspension 500ml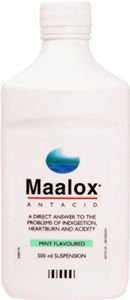 Description
What is it used for?
Excess acid in the stomach (hyperacidity).
Heartburn.
Inflamed stomach lining (gastritis).
Peptic ulcers
Maalox Suspension contains two different medicines. They are called
dried aluminium hydroxide gel and magnesium hydroxide. They belong
to a group of medicines called antacids.
Maalox Suspension is used for:
• Heartburn or when your stomach has too much acid (indigestion)
• Infllammation of the stomach (gastritis)
• When prescribed by a doctor may also be used for lowering the
amount of acid in your stomach or gut (intestine) when you have an ulcer.
Maalox Suspension works by lowering the amount of acid in your stomach.
Directions
Adults and children aged over 12 years: Take 2-4 5ml spoonfuls four times a day or as directed.

Children under 12 years: Not recommended.
Do not take more than 16 spoonfuls in 24 hours
Warnings
Warning!
Shake the bottle well before use.
If symptoms persist consult your doctor.
Any remaining medicine should be disposed of 28 days after opening.
Not to be used in
Children less than 14 years of age.
Weak or debilitated people.
Decreased kidney function.
Low blood phosphate levels (hypophosphataemia).
Severe abdominal pain.
Blockage of the bowel (bowel obstruction), or where this is suspected.
Ingredients
Each 5ml spoonful of Maalox Suspension contains the active ingredients: Magnesium hydroxide 200mg, aluminum hydroxide dried gel (equivalent to 153mg aluminum hydroxide) and simethicone 20mg.

Other ingredients: Butylparaben, flavour, hydroxypropyl methylcellulose, microcrystalline cellulose, propylparaben, sodium carboxymethylcellulose, sodium saccharin, sorbitol and water.
You may also like