NannyCare Follow on Milk (Stage 2) 900g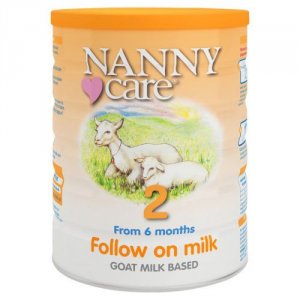 NannyCare Follow on Milk (Stage 2) 900g
£22.90
This product is limited to 2 per order, if you wish to order more please contact the pharmacy team/customer services.
This product is typically dispatched within 3-5 working days from date of order and is not suitable for our next day delivery service.
Brand: Nannycare
Code: 3935954
Weight: 1050g
Description
A goat milk based formula designed to complement the weaning diet from 6 months. It helps to provide key nutrients :
Rich source of Vitamin D
Vitamins A & C (for a normal development of the immune system)
Iron, Calcium and Vitamin D
It should be used as part of a normal, varied and healthy diet.
Directions
Because powdered milks are not sterile, failure to follow preparation and storage instructions may make your baby ill.


Wash hands and sterilise all equipment according to manufacturer's instructions.

Boil fresh water. Do not use artificially softened or repeatedly boiled water. Leave to cool for maximum 30 minutes. Measure required water (see feeding guide), pour into sterilised bottle.

Using the scoop provided, lightly fill with powder and level off. Always add 1 level scoop of powder (4.3g) for each 30ml of water.

Add the required number of scoops to the cooled boiled water.

Place the sterilised teat and cap on the bottle and shake well until the powder us fully dissolved.

Cool under running tap. Check temperature of feed. Feed immediately.

Feeding Guide from 6 months +:

Level scoops of powder: 6, Cooled boiled water per feed: 180ml 6fl oz
Level scoops of powder: 7, Cooled boiled water per feed: 210ml 7fl oz
Babies from 6 months onward need about 500-600ml of breast milk or formula per day.
4.3g scoop enclosed. This information is given as a guide only. Your baby may need more or less than the amounts shown.

Note the volume of prepared formula is slightly greater than that of the water added.
Warnings
For hygiene reasons, do not store made up feeds. Make up each feed as required and always discard unfinished feeds within 2 hours maximum. The water should be freshly boiled and allowed to cool to a minimum of 70°C, and no longer than 30 minutes. Do not heat feeds in a microwave as hot spots may occur and cause scalding. Do not add extra scoops of powder, or anything else to your baby's feed.

Store unopened can in a cool, dry place (do not refrigerate). After opening, keep airtight and continue to store in a cool, dry place. Use contents within 4 weeks.
For best before date see base of pack.

NannyCare Follow on milk is only suitable for babies from 6 months, to complement breastfeeding or the start weaning, as part of a varied and balanced diet.
It is not intended as a breast milk substitute and is not suitable for babies under 6 months. It is recommended that NannyCare Follow on milk is used only on the advice of a doctor, midwife, health, visitor, public health nurse, dietitian, pharmacist, or other professional responsible for maternal and child care, based on your baby's individual needs.
Ingredients
Pasteurised Goat Milk Solids (43%), Lactose (from Milk), Vegetable Oils (High Oleic Sunflower, Rapeseed, Sunflower), Minerals, Vitamins, Acidity Regulator (Citric Acid), Choline Chloride, Taurine, L-Carnitine, Antioxidant (Sunflower Lecithin), L-Tryptophan, L-Isoleucine, Taurine, Anitoxidant (Tocopherol-Rich Extract), Vitamins: Ascorbic Acid, Dl-a-Tocopheryl Acetate, Nicotinamide, Retinyl Acetate, Cholecalciferol, Calcium d-Pantothenate, Phytonadione, Cyanocobalamin, Thiamin Hydrochloride, Riboflavin, Pyridoxine Hydrochloride, Folic Acid, Biotin, Minerals: Calcium Hydroxide, Dicalcium Phosphate, Sodium Citrate, Potassium Chloride, Ferrous Sulphate, Calcium Citrate, Zinc Sulphate, Copper Sulphate, Manganese Sulphate, Potassium Iodide, Sodium Selenite.
You may also like