Natrasleep Tablets Pack of 50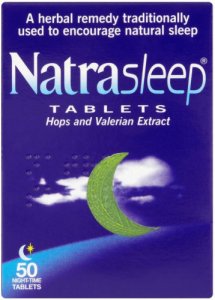 Natrasleep Tablets Pack of 50
£3.99 Save: £0.50 RRP: £4.49
Brand: Natrasleep
Code: 2821379
Weight: 75g (includes packaging)
Description
A traditional herbal remedy for the symptomatic relief of nervous tension and the stress and strain of everyday life. Natracalm contains passiflora incarnata, otherwise known as the passionflower, a traditional herbal ingredient with relaxing and calming properties.
Directions
Adults & the elderly:
Take one to three tablets half an hour before bedtime.
Do not exceed the stated dose.
If you take too many tablets, talk to your doctor or pharmacist.
As effects may not be apparent immediately, the tablets should be taken for 2 - 4 weeks continuously.
If symptoms worsen or persist after 4 weeks, talk to your doctor or qualified healthcare practitioner.
Warnings
• Do not take if you are allergic to any of the ingredients.
• Do not take if you are under 18 years old.
• Avoid excessive alcohol consumption. The effects of this product may be increased with alcohol.
• Do not take this product if you are already taking a medicine for anxiety or to help you sleep.
• Do not take if you are pregnant or breast feeding.
• If you feel drowsy while taking the tablets, do not drive or operate machinery.
• This product contains glucose. If you have an intolerance to some sugars, consult your doctor before taking this product.
Nausea and abdominal cramps have been reported when using Natrasleep. The frequency is unknown.
Reporting of side effects: If you get any side effects, talk to your doctor, pharmacist or nurse. This includes any possible side effects not listed on this label. You can also report side effects directly via the Yellow Card Scheme at: www.mhra.gov.uk/yellowcard. By reporting side effects you can help provide more information on the safety of this medicine.
Keep out of the reach of children
Store in the original package.
Store below 25°C.
Do not use after the expiry date.
Ingredients
Valerian root, extraction solvent: Ethanol 60% v/v, 33.4 mg of extract (as dry extract) from Hop strobile (Humulus lupulus L.) (4‐8:1) Extraction solvent: Methanol 40% v/v, Calcium Phosphate Dibasic, Croscarmellose Sodium, Microcrystalline, Cellulose, Silicon Dioxide, Magnesium Stearate, Maltodextrin, Glucose Syrup, Colloidal Anhydrous Silica, Hypromellose, Talc, Titanium Dioxide (E171), Copper Chlorophyllin (E141), Vegetable Carbon Black (E153).
You may also like