Neurozan Plus Tablets & Capsules Pack of 56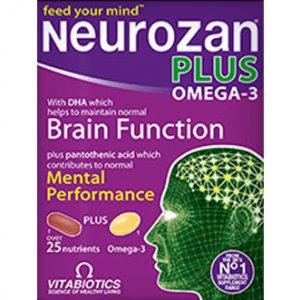 Neurozan Plus Tablets & Capsules Pack of 56
£11.69 Save: £6.64 RRP: £18.33
Brand: Vitabiotics
Code: 3544335
Weight: 93g (includes packaging)
Description
Brain cells that form part of our complex neuronal network cannot be replaced and have the highest priority in the body for micronutrients. The Neurozanrange includes important specific vitamins, including iodine which helps contribute to normal cognitive function and pantothenic acid for normal Mental Performance.
Neurozan Plus also contains DHA to contribute to the maintenance of normal Brain Function. Based on the latest research into vitamins Neurozan is the ideal supplement for the brain, with niacin to contribute to the normal functioning of the nervous system, plus 5-HTP, Phosphatidylserine, Ginkgo Biloba and more!
Even greater support with high purity DHA - to feed your mind.
Your brain requires a wide spectrum of essential nutrients that work together to ensure optimum health & performance. Neurozan Plus provides advanced nutritional support, with specific nutrients to help contribute to the maintenance of normal brain & cognitive function.
Neurozan Plus dual pack combines the latest research based micronutrients for brain health with a high purity 60% Omega-3 DHA capsule.
Food for the brain:
Brain Function
Omega-3 provides 300mg DHA contributes to the maintenance of normal brain function.
Mental performance
Iron, zinc and iodine contribute to normal cognitive function plus pantothenic acid which contributes to normal mental performance.
Nervous system
Thiamin (vit B1), magnesium and vitamin C contribute to the normal functioning of the nervous system.
Psychological functions
Vitamins B12, B6, thiamin (vit. B1) folic acid, vitamin C and magnesium contribute to normal psychological function.
Plus specialist nutrients:
L-Arginine
Phosphatidylserine
5-HTP
Ginkgo Biloba
Co-Q10
Ideal levels of Vitamin D3
The tablet formula now provides an ideal 25mcg (1000IU) vitamin D3 in the preferred, more active cholecalciferol form, as synthesised by the skin.
General health & vitality
The advanced formula includes nutrients for all round health & vitality including:
Vitamin C, iron and copper to contribute to normal energy release
Selenium and zinc contribute to normal function of the immune system
Due to the comprehensive nature of Neurozan, there is no need to take an additional multivitamin.
Directions
One purple tablet per day
One pink capsule per day
Swallow each with water or a cold drink and take with a main meal. Not to be chewed. Do not exceed recommended intake. To be taken on a full stomach.
This comprehensive formula replaces other Neurozan supplements and multivitamins. There is no need to take an additional multivitamin.
Warnings
This product contains iron, which if taken in excess by very young children may be harmful.
As with other food supplements, seek professional advice before using if you are under medical supervision, pregnant, breast-feeding, suffer from food allergies, or are allergic to any of the ingredients.
Contains fish oil sourced from fish. Food supplements must not replace a varied and balanced diet and a healthy lifestyle.
Not to be taken on an empty stomach (see directions).
Store below 25°C in a dry place, out of sight and reach of children.
Ingredients
Bulking Agents: Microcrystalline Cellulose, Dibasic Calcium Phosphate, Potato Starch & Pregelatinized Starch, Magnesium Oxide, Vitamin C (Ascorbic Acid), Vitamin E (D-Alpha Tocopheryl Acid Succinate)(from Soya), Polyvinylpolypyrrolidone, Phosphatidylserine, Anti-caking Agents: Stearic Acid, Silicon Dioxide, Purified Talc & Magnesium Stearate, L-Arginine, Thiamin (Vitamin B1 as Mononitrate), Tablet Coating (Hydroxypropylmethylcellulose, Ethyl Cellulose, Propylene Glycol, Natural Source Colours: Titanium Dioxide, Red Iron Oxide), Zinc Sulphate, Ginkgo Biloba, Polyvinylpyrrolidone, Ethyl Cellulose, Niacin (Nicotinamide), Vitamin B12 (Cyanocobalamin [Carrier: Dicalcium Phosphate]), Ferrous Fumarate, Hydroxytryptophan, Vitamin B6 (Pyridoxine HCl), Pantothenic Acid (as Calcium Salt), Phosphatidylcholine, Natural Mixed Carotenoids (Betacarotene, Modified Starch, Corn Starch, Glucose Syrup, Anti-oxidants: DL-Alpha Tocopherol, Sodium Ascorbate), Co-Enzyme Q10, Glutamine, Manganese Sulphate, L-Glutathione, Riboflavin, Vitamin D3 (Cholecalciferol [Carriers: Medium Chain Triglycerides, Colloidal Silica, Talc, Maltodextrin, BHA, Ethylcellulose]), Copper Sulphate, Folic Acid (as Pteroylmonoglutamic Acid), Sodium Selenate, Chromium Trichloride, Potassium Iodide.
You may also like