Neutradol Continuous Deodorizer Super Fresh Gel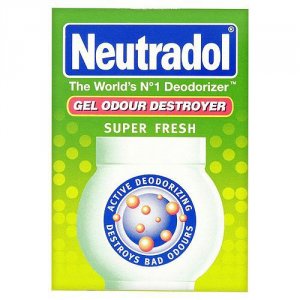 Neutradol Continuous Deodorizer Super Fresh Gel
Description
Lasting up to 3 months, Neutradol Super Fresh Gel has all the deodorizing power of Neutradol Original, leaves the air smelling fresh and clean.
Contains approximately 50 ingredients that attack bad odor's to leave clean and fresh air behind. This product is constantly being improved and tested by Neutradols laboratories to give you the best deodorizer there is to keep your home fresh, clean and smelling beautiful.
Long lasting effect. Leaves the air fresh and clean, for up to 3 months. Economical but also practical. No need to have a plug, or the correct size refill which is sometimes difficult to find.
Directions
Simply take off the lid and let Neutradol Gel release its active formula. Neutradol Gel is easy to use anywhere in the home or office.
Warnings
Lasts up to 90 days in temperatures not exceeding 20°C.
Keep out of reach of children.
Ingredients
There are no ingredients listed for this product.
You may also like