NostrilVet 1500mg Spray Pack of 2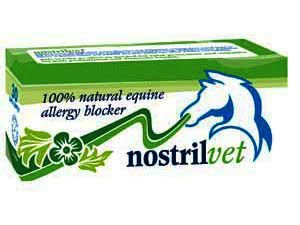 NostrilVet 1500mg Spray Pack of 2
£25.90
This product is typically dispatched within 3-5 working days from date of order and is not suitable for our next day delivery service.
Brand: NostrilVet
Code: 5556678745
Weight: 500g
Description
A clinically proven unique and 100% natural cellulose based nasal powder spray that delivers fast and effective protection for horses against mould from straw mite dust pollen and other airborne allergens that causes allergic reactions like equine hay fever cuffing heaves runny nose and other similar symptoms. Acts as a natural barrier to airborne allergens treating the cause not just the symptoms. 3000mg is approximately one months supply (3 applications per day). Does not contain any banned substances.
Directions
1. Test it first. Squeeze the bottle away from yourself. Test the pressure needed to administer an ideal dose, which is approximately a 10 inch plume of powder.
2. Stand sideways to the horse, put your right arm under the horse's neck and place your right hand over the top of the horse's nose, which enables you to get the horse in a firm but gentle headlock.
3. Hold the head firmly and then place NostrilVet's bottle nozzle gently into the nostril and push the sides together tightly to deliver one puff of of NostrilVet powder.
4. Repeat the above in the other nostril. NostrilVet can be used daily and as often as required to maintain a constant layer of powder on the barrier inside the nostril cavity.
5. If the above does not work, get a friend to come and offer the horse a hand full of feed (or secure the horse in the stable and divert attention with a bucket of feed). While the horse is nibbling on the feed, squeeze NostrilVet up each nostril.
6. NostrilVet is a clinically proven, natural and contains no active ingredients. The key to getting the best out of NostrilVet is to make sure you maintain a constant layer of powder on the barrier inside the nostril cavitation. Doing this reinforces the barrier between the aggravating allergen and sensitive membrane - thus the horse's natural defence system does not react with typical symptoms of cuffing, asthmatic reactions, runny nose and other allergic reactions.
7. You should administer NostrilVet to your horse before entering an environment containing airborne allergens, for example; the stable or the field on a strong pollen count day.
8. As a general guide, reapply every three hours.
Warnings
For equine use only.

Do not exceed recommended dose.

If irritation occurs discontinue immediately.
You may also like