Olbas Max Strength All-in-One Cold & Flu Capsules Pack of 16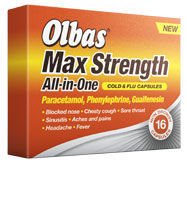 Olbas Max Strength All-in-One Cold & Flu Capsules Pack of 16
£3.69 Save: £1.10 RRP: £4.79
Brand: Olbas
Code: 3963717
Weight: 150g (includes packaging)
Description
Olbas Max Strength All-in-One Cold & Flu Capsules are used for the relief of the symptoms of colds and flu and the pain and congestion of sinusitis, including aches and pains, headache, blocked nose and sore throat, chills and feverishness (high temperature).
They can also loosen stubborn mucus (phlegm) and provide relief from chesty coughs.
Directions
Swallow the capsules whole with water. Do not chew.
Adults, the elderly and children 12 years and over:
2 capsules every 4 hours as required. Do not take more than 8 capsules in any 24 hour period.
Do not give to children under 12 years.
Warnings
Do not take anything else containing paracetamol while taking this medicine.
Do not give to children under 12 years.
Do not take more medicine than the label tells you to. If you do not get better, talk to your doctor
Ingredients
Active Ingredients: Paracetamol 500mg, guaifenesin 100mg and phenylephrine hydrochloride 6.1mg.
Other Ingredients: Maize starch, croscarmellose sodium, sodium laurilsulfate, magnesium stearate and talc.

The capsule shell is made of gelatin and contains the colours quinoline yellow (E104), indigo carmine (E132), erythrosine (E127) and titanium dioxide (E171).
You may also like