Pancrex Granules 300g (Fridge Line)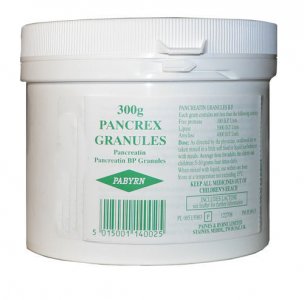 Pancrex Granules 300g (Fridge Line)
£32.90 Save: £3.81 RRP: £36.71
Brand: Pancrex
Code: 0468173
Weight: 300g (includes packaging)
Description
PLEASE NOTE THAT THIS ITEM MUST BE DELIVERED IN A COOL BOX AND SO POSTAGE WILL NEED TO BE AMENDED TO £7.49 - PLEASE SELECT SPECIAL NEXT DAY DELIVERY WHEN PROMPTED DURING CHECKOUT.
Pancrex is used to compensate for reduced intestinal enzyme activity in pancreatic deficiency states.

It is indicated for the treatment of fibrocystic disease of the pancreas (cystic fibrosis), chronic pancreatitis and pancreatic steatorrhoea following pancreatectomy. It may also be indicated following gastrectomy as an aid to digestion.
Directions
Dosage should be adjusted according to the needs of the individual patient and the amount and type of food consumed.

The following dosage ranges provide a suitable basis for adjustment.Adults, the Elderly, and Children5 g - 10 g swallowed dry or mixed with a little water or milk just before meals
Warnings
PLEASE NOTE THAT THIS ITEM MUST BE DELIVERED IN A COOL BOX AND SO POSTAGE WILL BE AMENDED TO £5.99.
Unsuitable for people with lactase insufficiency, galactosaemia or glucose/galactose malabsorption syndrome.

It is possible that some irritation of the skin of the mouth may occur if the granules are chewed or retained in the mouth. Irritation of the anus may also occur. A barrier cream may prevent this local irritation.If the granules are mixed with liquids the resulting mixture should not be allowed to stand for more than one hour prior to use.
Shelf life - 2 years.
Special precautions for storage - Store at a temperature not exceeding 15°C.
Ingredients
Pancreatin BP to provide enzymatic activity per gram not less than:

Free protease300 BP unitsLipase5000 BP unitsAmylase4000 BP units
Lactose, acacia (E414), Opaseal P17-0200 containing IMS, polyvinyl acetate phthalate and stearic acid (E570).
This medicinal product contains approximately 70g of lactose per 100g. When taken according to the dosage recommendations each dose supplies up to 7g of lactose.
You may also like