Perfectil Plus Hair Tablets Pack of 60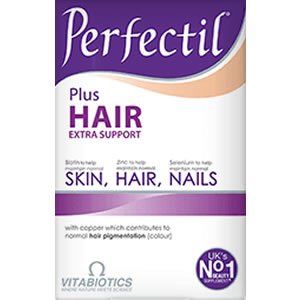 Perfectil Plus Hair Tablets Pack of 60
£11.39 Save: £6.56 RRP: £17.95
Brand: Vitabiotics
Code: 3944030
Weight: 150g (includes packaging)
Description
Perfectil is the UK's leading beauty supplement for skin, hair and nails.
With essential nutrients that deliver nourishment at the very deepest level, Perfectil's range of beauty vitamins and minerals provide specific support to help maintain great looking skin, hair and nails all year round.
Advanced nutrition for hair
Hair is often referred to as our 'crowning glory' but styling, colour treatments and diet can all affect the appearance of our hair. Perfectil Plus Hair has been developed for those with a particular interest in maintaining the health of their hair, as well as great all round support for skin and nails.
Hair - our crowning glory
Hair serves a valuable biological purpose in keeping your head warm and helps regulate body temperature. Of course it does much more than these basic functions and in many ways helps to communicate important messages about who we are and how we feel. Hair has two distinct structures - first, the follicle itself, which resides in the skin, and second, the shaft, which is what is visible above the scalp.
Typically each hair stays with you for three to five years until it falls or grows out, then a new strand starts to grow. The rate or speed of hair growth is about 1.25 centimetres or 0.5 inches per month, or about 15 centimetres or 6 inches per year.
For both women and men, hair is an important part of our identity. We often invest significant time and money in grooming, styling and colouring it to express our personality, and as such it needs, and deserves, the best possible care to ensure we show it at its best.
Nourishing hair follicles from within
Perfectil Plus Hair is a specialist formula developed to provide even greater support for your hair, and has been designed to complement your daily beauty routine. Perfectil Plus Hair is formulated to nourish from the inside with micronutrients including:
Unique Colourel blend, with copper which contributes to normal hair pigmentation (colour)
Biotin, selenium and zinc which all contribute to the maintenance of normal hair
Also includes Amino Acids, Marine Collagen, Inositol and Grape Seed extract
Supporting key areas of beauty, including skin and nails
With 28 micronutrients in total, specially chosen for their combined effect, Perfectil Plus Hair supports all the key areas of beauty; skin and nails, with extra support for hair health including:
Selenium which contributes to the maintenance of normal nails
Riboflavin (vit. B2), niacin (vit. B3) plus minerals zinc and iodine contribute to the maintenance of normal skin
Vitamin C contributes to normal collagen formation for the normal function of skin
For all round nutrition
Perfectil Plus Hair provides your skin, hair and nails with a comprehensive spectrum of the essential bio-active nutrients. As well as benefiting these areas, Perfectil Plus Hair also safeguards your diet by doubling up as a comprehensive multivitamin for all round health. There is no need to take an additional multivitamin.
Directions
Two tablets per day with your main meal. Swallow with water or a cold drink. Not to be chewed.
Do not exceed the recommended intake. Perfectil Plus Hair should only be taken on a full stomach.
Perfectil Plus Hair is a comprehensive formula so may be used in place of a daily multivitamin. This comprehensive formula replaces other Perfectil supplements and multivitamins. There is no need to take an additional multivitamin.
Warnings
As with other food supplements, seek professional advice before using if you are under medical supervision, pregnant, breast-feeding or suffer from food allergies.
Food supplements must not replace a varied and balanced diet and a healthy lifestyle.
This product contains iron, which if taken in excess, may be harmful to very young children.
Store below 25°C in a dry place, out of sight and reach of children.
Ingredients
Calcium Carbonate, Inositol, Horsetail Extract (Equisetum Extract, Silicon Dioxide, Maltodextrin), Marine Collagen (from Fish), Magnesium Hydroxide (Maltodextrin), Microcrystalline Cellulose, L-Cystine, Vitamin C (Ascorbic Acid, Hydroxypropylmethylcellulose), Tablet Coating (Hydroxypropylcellulose, Purified Talc, Hydroxypropylmethylcellulose, Natural Source Colours [Titanium Dioxide, Iron Oxides]), Pantothenic Acid (as Calcium Salt), Vitamin E (D Alpha Tocopheryl Acid Succinate) (from Soya), L-Methionine, Folic Acid (as Pteroylmonoglutamic Acid, Dicalcium Phosphate Dihydrate), Crosslinked Cellulose Gum, Ferrous Fumarate, Citrus Bioflavonoids, Potassium Iodide (Potassium Iodide, Dicalcium Phosphate Anhydrous, Hydroxypropylcellulose), Niacin (as Nicotinamide), Zinc Oxide, Biotin (Biotin, Dicalcium Phosphate Dihydrate), Thiamin (Vitamin B1 Mononitrate), Vitamin B6 (Pyridoxine HCl), Magnesium Stearate, Betacarotene (Betacarotene, Modified Starch, Corn Starch, Glucose, Anti-oxidants: DL-Apha Tocopherol, Sodium Ascorbate), Vitamin D3 (Cholecalciferol, Acacia, Sucrose, Corn Starch, Medium Chain Triglycerides, Anti-oxidant: DL-Alpha Tocopherol), Grape Seed Extract, Co-Enzyme Q10, Manganese Sulphate, Riboflavin, Sodium Selenite Triturate (Microcrystalline Cellulose), Vitamin B12 (Cyanocobalamin, Trisodium Citrate, Citric Acid, Maltodextrin), Copper Sulphate, Chromium Chloride.
You may also like