Pernamax Equine 360 Tablets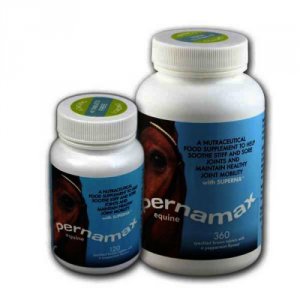 Pernamax Equine 360 Tablets
Description
A revolutionary equine health supplement designed to soothe stiff sore and aching joints in a pure and natural way.
Directions
360 tablets equals 3 month supply. Dosage: 4 tablets a day (8 loading). Free loading dose enclosed.
Warnings
FOR EQUINE USE ONLY.
DO NOT EXCEED RECOMMENDED DAILY DOSE.
Ingredients
The patented active ingredient is SuPerna the powdered extract of New Zealand Green Lipped Mussel. SuPerna contains essential Omega-3 'fatty acids' and naturally occurring Chondroitin Sulphate to help maintain the freedom of joints from aches and pains.
You may also like