Persona Contraception Monitor Refill Sticks Pack of 16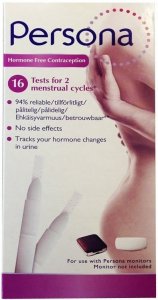 Persona Contraception Monitor Refill Sticks Pack of 16
£22.99
Brand: Persona
Code: 8453730
Weight: 100g (includes packaging)
Description
Persona Contraception Monitor 1.1 is a touch screen monitor and simple urine tests. Persona monitors changes in 2 key fertility hormones - estrogen and luteinising hormone - to identify the days when you can have sex without using contraception (green days) and the days when you are at high risk of becoming pregnant (red days).
During the first cycle of use you will be asked to test on 16 days. After your first cycle you will be asked to do a test on 8 days each cycle.
Persona is 94% reliable if you follow the instructions properly and use it as the only method of contraception. This means that if 100 women use Persona for one year, we expect 6 will become pregnant because they have had sex on a day when person incorrectly showed they were not at risk of becoming pregnant (green day).
Directions
Turn on the monitor.

Perform a urine test if prompted by the monitor.

Read your own daily fertility status on the display screen.
Warnings
Store at room temperature.

Keep out of reach of children.

Use test stick only once.

Do not use if the foil wrapper is damaged.
Ingredients
Not applicable for this product.
You may also like