Pharma Nord Bio Glucan Plus Tablets Pack of 150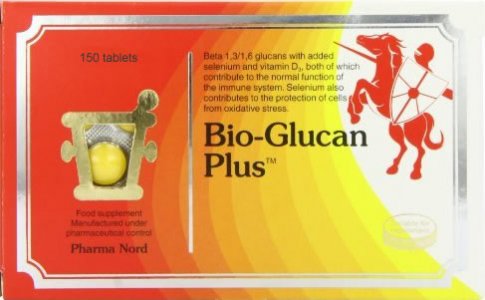 Pharma Nord Bio Glucan Plus Tablets Pack of 150
£35.99 Save: £3.96 RRP: £39.95
This product is typically dispatched within 3-5 working days from date of order and is not suitable for our next day delivery service.
Brand: Pharma Nord
Code: 3639457
Weight: 180g (includes packaging)
Description
Beta Glucan supplements is Pharma Nord's Bio-Glucan Plus containing beta 1,3/1,6 glucans as well as SelenoPrecise (a patented, highly absorbable, organic selenium yeast) and vitamin D3, both of which contribute to normal function of the immune system. Bio Glucan Plus contains Yestimum beta glucans with a high degree of purity (85%). This source has been chosen because of the greater purity, the more effectively the glucans are recognised by the body. Bio Glucan Plus may particularly benefit individuals whose immune system has been weakened through lifestyle, stress or ageing.
Why Pharma Nord Bio-Glucan Plus:
Manufactured to pharmaceutical standards

Two tablets of Bio Glucan Plus per day provide 250 mg of beta glucan extract, 50 mcg SelenoPrecise and 10 mcg vitamin D3 (cholecalciferol).

Patented organic selenium yeast, SelenoPrecise has a documented bio-availability of 89%.

Selenium and vitamin D3 are known to play an important role in supporting immune function.
What does it do?
Beta 1,3/1,6 glucans contained in Bio-Glucan Plus act as a primer of innate immune system. The name indicates, the innate immune system is inborn, and serves as the body's first line of defence against infectious organisms. This is in contrast to acquired immunity, which involves the development of antibodies against foreign organisms, as the second line of defence. Beta 1,3/1,6 glucans provide a stimulus to activate neutrophils, macrophages, and natural killer (NK) cells of the innate immune system against infectious organisms.
In addition, Vitamin D and Selenium are two nutrients that are known to play an important role in supporting immune function.
The formulation of Bio-Glucan Plus contains Yestimun, a superior source of beta 1,3/1,6 glucans, with a dry matter content >85% and alpha-D-mannan content of<2%. The type of glucans used in Bio-Glucan Plus should not be confused with the type of glucans (beta 1,3/1,4 glucans) obtained from cereals such as oats and wheat, which have a different molecular structure and different actions within the body.
Directions
Pharma Nord recommends 2-4 tablets to be taken per day or as directed by a physician. To be taken with food.
Suitable for vegetarians.
Warnings
No significant adverse effects have been reported from clinical trial studies using beta 1,3/1,6 glucans.
Pregnant or lactating women and those on medication should consult a doctor before using any product.
Ingredients
Microcrystalline cellulose, Dicalcium phosphate, Tricalcium phosphate, Polyvinylpyrrolidon, Magnesium salts of fatty acids, Hydroxypropyl methylcellulose, Talc, Titanium dioxide, Riboflavin
You may also like