Due to an unusually high number of orders being received dispatch times may be longer than stated. Please allow up to 7 working days for dispatch.

We are also experiencing a high volume of calls. Please use our contact us page to leave a message and we will get back to you as soon as possible.
Pregestimil Lipil 400g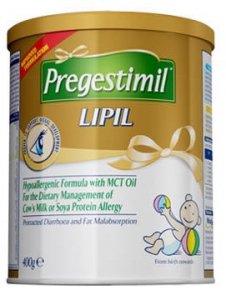 Pregestimil Lipil 400g
£13.59
Brand: Pregestimil
Code: 0434050
Weight: 500g (includes packaging)
Description
Pregestimil Lipil is a special hypoallergenic formula for infants and children who have problems digesting or absorbing routine infant formula or who have been diagnosed with cow's milk allergy.
What is special about Pregestimil Lipil?
The protein in Pregestimil Lipil has been broken down, or hydrolysed, into tiny pieces that are not recognised by the immune system and cannot trigger an allergic reaction in most children.
Pregestimil Lipil is lactose and sucrose free. The carbohydrate in Pregestimil Lipil is readily digested and well tolerated.
Pregestimil Lipil contains a special fat called MCT Oil (Medium Chain Triglicerides) that is easily absorbed and has been shown to promote weight gain in infants with fat malabsorption.
Pregestimil Lipil is nutritionally complete and suitable from birth and contains all the nutrients necessary to support good growth and development. After 6 months Pregestimil Lipil will also meet your baby's needs as part of a mixed diet.
What is Lipil?
Lipil is a special blend of nutrients DHA and ARA, also known as Omega 3 and Omega 6 fatty acids. DHA and ARA are present in breast milk and are important building blocks for baby's brain and eye.
Directions
Follow instructions on the packaging carefully.
For your baby's health we advise you to carefully follow these instructions.
Proper hygiene, preparation, dilution, use and storage are important when preparing infant feeds. Powdered formulas intended for infants are not sterile and should not be fed to premature infants or infants who might have immune problems unless directed and supervised by your baby's healthcare professional. Always ask your baby's healthcare professional which formula is appropriate for your baby. Always follow the instructions as per the can.
Warnings
Do not use prepared formula if it is un-refrigerated for more than a total of 2 hours. After feeding begins use within 1 hour and do not refrigerate feeding bottle. Throw away prepared formula left in the bottle and clean the utensils. Do not freeze prepared formula.
Ingredients
Corn syrup solids (42%), casein hydrolysate (from milk) (16%), medium chain triglycerides (MCT oil) (15%), modified corn starch (7%), soy oil (7%), corn oil (2%), high oleic vegetable oil (safflower or sunflower) (2%), and less than 2% mortierella alpina oil, crypthecodinium cohnii oil, vitamin A palmitate, vitamin D3, vitamin E acetate, vitamin K1, thiamin hydrochloride, riboflavin, vitamin B6 hydrochloride, vitamin B12, niacinamide, folic acid, calcium pantothenate, biotin, ascorbin acid, choline chloride, inositol, calcium citrate, calcium phosphate, magnesium oxide, ferrous sulfate, zinc sulfate, maganese sulfate, cupric sulfate, sodium iodide, sodium citrate, potassium citrate, potassium chloride, potassium hydroxide, sodium elenite, l-cystine, l-tyrosine, l-tryptophan, taurine, l-carnitine.
You may also like