Readigloves Nytraguard Bluple Nitrile Gloves Medium Pack of 100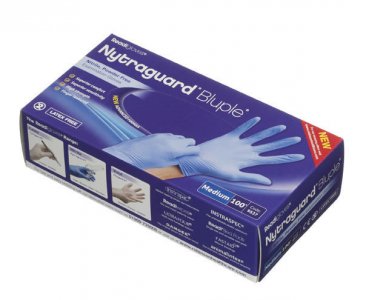 Readigloves Nytraguard Bluple Nitrile Gloves Medium Pack of 100
£4.69
This product is typically dispatched within 3-5 working days from date of order and is not suitable for our next day delivery service.
Brand: Readigloves
Code: 3799905
Weight: 360g (includes packaging)
Description
Readigloves Nytraguard Bluple Nitrile Gloves have thin wall technology.
These gloves are manufactured from a state of the art acrylonitrile butadiene polymer formula, allowing a high strength, high stretch, thin wall construction that was not possible until now. Even the smallest objects can be felt through the thin walls for optimum sensitivity and these gloves also delivers dexterity because the combination of thin walls with high stretch means that it very easy to move the hand with minimal effort. The glove conforms beautifully to the hand and is extremely comfortable to wear with minimum hand fatigue. Bluple is also very easy to put on and remove.
Dependable, durable and versatile
Critically, any glove must offer protection, not just for the clinician but also to prevent cross infection to the patient. The advanced material of Bluple gloves, coupled with state of the art manufacturing, ensures that these gloves are is produced without microscopic holes that would otherwise lead to viral penetration and tearing.
Durability is also extremely important. Bluple gloves strong and are specially treated inside so that they slip easily onto the hand, reducing the chance of ripping. They are also manufactured as standard with a textured fingertip finish to provide dependable grip during precision tasks and aiding wet grip. Palms and the lower finger area have a matt finish – to provide grip without causing discomfort when holding a patient's skin.
Powder free, eliminating skin irritation and infection risk.
Additionally, as the gloves are manufactured from acrylonitrile butadiene they do not contain latex, making them safe to use by individuals who are sensitive to latex.
Meet all legal requirements
These gloves are a Class l Medical Device for Medical Examinations, suitable for a huge variety of clinical tasks in hospitals, community clinics, GP surgeries, dentistry clinics, ambulances, nursing and care homes. Bluple also conforms to the PPE Directive for minimal risk tasks, making it an excellent choice for general purpose tasks. Its durability means that the gloves will last without the need for frequent changing.
They are also suitable for food preparation, where it is critical that the food is not contaminated – particularly in a hospital setting. It offers a much higher level of performance than vinyl gloves – giving better dexterity and better durability.
Economical and better for the environment
These gloves are also economical. The new material means that the gloves can be made thinner, but actually perform better than thicker gloves. More gloves can also be fitted into a box, reducing the room taken up in transport – thus reducing the carbon footprint.
Safe & Strong
Sensitive & Dexterous
Durable & Dependable
Comfortable
Latex free
Economical
Directions
There are no directions listed for this product.
Warnings
Keep out of the reach of children.
If the gloves have any tears do not use.
Ingredients
There are no ingredients listed for this product.
You may also like