RockTape Hot Pink 5cm x 5m Kinesiology Tape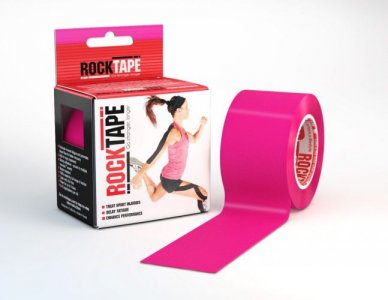 RockTape Hot Pink 5cm x 5m Kinesiology Tape
£9.99 Save: £3.51 RRP: £13.50
This product is typically dispatched within 3-5 working days from date of order and is not suitable for our next day delivery service.
Brand: Rocktape
Code: 6344485
Weight: 150g (includes packaging)
Description
RockTape is a premium kinesiology tape that features a tighter weave, greater elasticity and stronger adhesive than other kinesiology tapes. A tighter weave means enhanced support for working muscles and joints. Extra elasticity promotes "snap back," helping muscles contract and relax more efficiently.

RockTape's unique stronger adhesive allows it to stay on longer, even under the toughest conditions. This makes it an ideal athletic tape for high performance athletes and those competing in extreme sports. Put simply Rocktape is kinesiology tape evolved.

When we manufacture RockTape, we introduce a bias into the weave of the fabric so it stretches in one direction and not the other. This mimics the mechanical properties of collagen and muscle fibres. Compared with standard kinesiology tape RockTape has almost twice the elasticity.

Rocktape is a natural-hybrid product and consists of 97% organic cotton and 3% nylon 6/12. The adhesive is a hypo-allergenic acrylic based adhesive and contains no latex. Rocktape contains no active chemicals, drugs or mumbo-jumbo. 100% of Rocktape's benefits come from its elasticity.
Stickier, hypoallergenic adhesive that won't fall off during movement and exercise
180% stretch, the same elasticity as skin, to promote full range of motion
97% cotton, 3% Nylon 6/12, low moisture absorption
Tighter weave, which enables muscle to more easily 'snap back' to neutral
Sweat and water resistant
Variety of designs and colours (all colours have the same properties)
5 metres in length by 5cm in width in each roll
Wearable for up to 5-7 days depending on body part
Directions
RockTape can be used to treat a wide variety of injuries. Simply apply the tape over the injured muscle, adding as much as stretch on the tape as required.
Warnings
There are no warnings listed for this product.
Ingredients
There are no ingredients listed for this product.
You may also like