Savlon Disinfectant Liquid Orange Bottle 500ml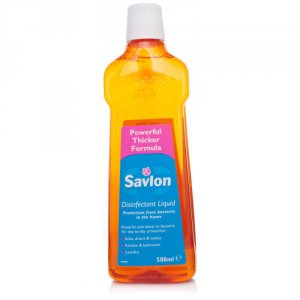 Savlon Disinfectant Liquid Orange Bottle 500ml
Description
Savlon Disinfectant Liquid - Make your house a safe house! Bacteria are all around you, all the time. Use Savlon Disinfectant on worktops, sinks, chopping boards, high chairs, changing mats, tables, toilets, showers, playrooms… anywhere around the house. Powerful Savlon Disinfectant Liquid is lethal to bacteria giving you reassurance of day-to-day protection. One quick wipe is all it takes. Savlon Disinfectant Liquid's concentrated power will do the rest.
Directions
How to use Savlon Disinfectant Liquid:
Dilute before use.
Warnings
Caution before using Savlon Disinfectant Liquid:
Do not use undiluted on skin.

Keep out of ears and eyes.

Treat splashes in eyes by washing out with water for at least 10 minutes.

Do not mix with soap or detergents.

You should carefully read all product packaging and labels prior to use
Ingredients
Savlon Disinfectant Liquid contains:
Benalkonium Chloride, Alcohol Ethoxylate, Hydroxy Ethyl Cellulose, Trisodium Edetate, Phosporic Acid and Purified Water.
You may also like