Scholl Below The Knee Natural Large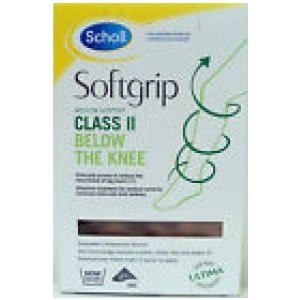 Scholl Below The Knee Natural Large
£7.99 Save: £-7.99 Was: £9.90
This product is typically dispatched within 3-5 working days from date of order and is not suitable for our next day delivery service.
Brand: Scholl
Code: 0563320
Weight: 175g (includes packaging)
Description
How compression hosiery works
Compression hosiery work with your body to help you to keep your blood flowing back from your legs up towards your heart. Your Scholl compression stockings, socks and tights help you to achieve this in two ways:
Overall compression
Your legs are gently squeezed, which:
Helps to reduce the blood flow through the veins closest to your skin surface
Brings the vein walls, and more importantly the valve cusps closer together (to help prevent the blood flowing back towards your feet)
Graduated compression
Scholl hosiery uses 'graduated compression', where the pressure gets lighter as it goes up your legs.
You will notice that they are tighter round your ankle than round your calf and, if you wear tights or thigh length stockings, they will be tighter round your calf than round your thigh.
This progressive reduction in compression is a particularly effective way to push blood up your leg.
Lowest compression at your thigh
Keeps the blood moving upwards, towards your heart.
Intermediate compression at your calf
Assists your calf muscle as it pushes blood up your leg.
Highest compression at your ankle
Helps to move blood from your foot and ankle into your calf, so the muscle can push it onwards.
Why wearing your Scholl compression hosiery is important
When your veins are not returning blood from your legs efficiently, you are at risk from several complications:
Varicose veins – which can be unsightly, itchy and uncomfortable.
Inflammation of the veins – also known as phlebitis. Inflamed veins can cause reddening, overheating and pain along the course of the vein.
Thrombosis – poor return of blood from your legs increases your risk of blood clots forming in your veins.
Venous ulcers – when blood does not flow properly in your legs the nutrients and oxygen it carries may not reach every cell properly. This can damage the tissues, leading to ulcers on the skin that are difficult to heal.
What are the benefits of wearing compression hosiery?
Medical studies have shown that wearing compression hosiery every day can decrease all these complications. In particular, wearing compression stockings, socks and tights when you have had a venous ulcer can dramatically decrease the chance that the ulcer will come back.
Directions
To enjoy the benefits of compression stockings, socks or tights you need to wear them regularly, preferably every day.
How to put on your closed toe Scholl stockings or socks
If you have difficulty in getting your compression hosiery over your foot you may wish to try using open toe stockings and a Scholl Fitting Socklet.
Like many things in life, putting on your compression stockings or socks is just a question of getting the right knack, but there are a few hints to note before you start:
Always put your stockings or socks on first thing in the morning, as your legs may become swollen as the day progresses
Make sure that your fingernails are smooth as rough edges could cause snags and ladders
Remove any jewellery which could catch as the stockings or socks are put on
Warnings
Taking care of your stockings, socks and tights
Protecting them from damage
In general, try to avoid snagging or laddering your Scholl compression hosiery:
Make sure your fingernails and toenails are free from rough edges
Remove any jewellery which could catch as you put your hosiery on
Check your shoes for sharp edges which could damage your stockings, socks or tights and your feet
Washing instructions
Scholl compression stockings, socks and tights should be washed every day after they are worn.
All of the Softgrip range are machine washable. To wash your stockings, socks or tights:
Machine wash at a maximum temperature of 40ºC
Dry flat
Dry away from direct heat
Do not dry clean, bleach or iron
Your Scholl compression stockings, socks or tights should be washed after every wear, so it is best to have two or more pairs. Handled carefully, your hosiery should last for 30 washes.
Ingredients
No ingredients are listed for this product.
You may also like