Schwarzkopf Vital Hair Colourant Light Brown 60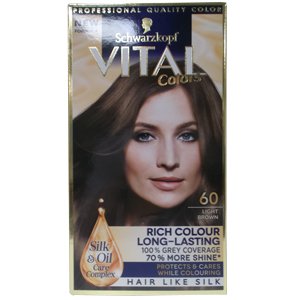 Schwarzkopf Vital Hair Colourant Light Brown 60
£2.69 Save: £4.00 RRP: £6.69
This product is typically dispatched within 1-3 working days from date of order when using our standard delivery or 48 Hour Tracked and Signed service.
Brand: Schwarzkopf
Code: 2574010
Weight: 210g (includes packaging)
Description
Perfect grey coverage. Long lasting colour result.
Experience intense, long -lasting colour full of vitality & shine: New Schwarzkopf vital colours with exclusive colour pigments: for intense, radiant colours which last - with no trace of grey.

Color-intensive formula : From Schwarzkopf, Experience the colour strengthening effect with the Vital Colors color-intensive formula and additional 20% colour pigments: each strand becomes concentrated with colour for a deep lasting result. Grey hair is perfectly covered.

Colour protection: The exclusive Color-Conditioner with natural apricot oil protects your colour from fading and leaves it sparking. The result: Intensely radiant, long-lasting colour full of vitality and shine. Schwarzkopf Vital Colors: For colour as radiant as you are.

This shade is suitable for the following natural hair colours: Your Natural Hair Colour- Colour Result. Light Blonde. Medium Blonde to Dark Blonde Light Brown. The colour result depends upon your natural hair colour and the amount of grey hair you have.

This Kit Contains: Tube Color-Creme 60 ml/ Bottle Creme Developer 60 ml. Tube Color-Conditioner 22.5 ml. Pair of Gloves. Instruction Leaflet.
Directions
How to use Schwarzkopf Vital Colours:
Add the Vital Colours Intensive Colour Creme to the Creme Developer bottle, shake well and apply to dry hair. Leave for 20-30 minutes (for shade 10 leave for 30-45 minutes).
Rinse well and apply Colour-Shine Conditioner.
On very long hair we recommend 2 packs.
Warnings
Precautions:
Contains hydrogen peroxide and phenylenediamines, Product can cause an allergic reaction, Do not use to dye eyelashes or eyebrows. Avoid contact with eyes, Rinse eyes immediately, if product comes into contact with them, Rinse hair thoroughly after application, Wear suitable gloves. See bottom of pack for ingredients. Important: This product can cause an allergic reaction. Do not use, if you have already experienced that a hair colourant is incompatible with your skin, If your scalp is sensitive or itchy, or if your skin is scratched or has abrasions. In rare case hair dye allergies can cause severe health problems. Please consult a dermatologist if you have any doubts. We recommend that you perform a skin sensitivity test 48 hours prior to use of this colourant, Read and follow the instructions in the product leaflet carefully.
Ingredients
COLOR-CREME:
Aqoa, Cetearyl Alcohol, Coconut Alcohol, Isostearic Acid, Sodium Laur Solfate, Cocamidopropyl Betaine, Ammonium Hydroxide, Ammonium Sulfate, Potassi Hydroxide, Myristic Acid, Cetearfjh-12, Ceieareth-20, Sodium Sulfite, Ascorbic Aci Eiidronic Acid, Sodium Silicate, Lactic Acid, Hydrolyzed Sweet Almond Protein, Parfum, -Toluene-2, S-Diamine Sulfate, Resorcinol, 2-Methylresorcinol, Muphthol, 4-Amino Nitrodiphenylamine-2 -Carboxylic Acid, 2-Amino-3-Hydroxypyridine, 2.4, 5,6-Tetraaminopyrimidine 3-Bis-(2,4-Diaminophenoxyi- Propane, M-Aminophenol, 4-Amino-2 Hydroxyto, 4-Chlororesorcinol, 2,7-Naphthalenediol, 1,5-Naphthalenediol, 3-Amino-2-Methylamin Methoxypyrioine, Hydroxyethyl 2 Nitro-P Toluidine, 2.6-Dihydroxy-3,4 Dimfjhvlpyridine Minoje-Hydroxyethylaminoanisole Sulfate, 5-Amino-6-Chloro-0-Cresol, 4-Amino-M Cresol, 2 Amino-6-Chloro-4-Nitrophenol, 2.4-Diaminophenoxyethanot, 5,6-Dihydroxyindolin Hbr, 2.2 -Methylene8is 4-Aminophenol, Hydroxyethyl-P- Phenylenediamine Suleate.
CREME DEVELOPER:
Aqua, Hydrogen Peroxyde, Ac8ylates Copoiymer, Etidronic Acid Sodium Laureth Sulfate, 2,6-Dicarboxypyridine, Disodium Pyrophosphate, Dimethicone
COLOR-CONDITIONS:
Aqua, Cetearyl Alcohol, Quaternium 87, Propylene Clycol, Sodium Pca, Polyquatfrnium-37, Isopropyl Mydlswte, Panthenol, Propylene Glycol Oicaprylate/ Dicaprate, Distearoylethyl Hydroxyethylmonium Methosulfate, Stearamioopropyl Dimethylamine, Prunus Armeniaca, Niacinamioe, Cfeareth-20, Glyceryl Stearate, Ppg-1 Trideceth-6, Citric Acio, Parfum, Geraniol, Citroneliol, Limonene, Linalool, Phenoxy Ethanol, Sodiummithylparaben, Mica, Cl77891,Cl 15985
You may also like