Sequaderma Acne Prone Skin 30g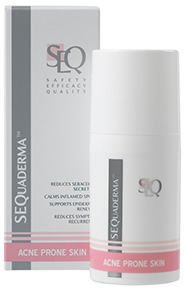 Sequaderma Acne Prone Skin 30g
£15.49 Save: £2.50 RRP: £17.99
This product is typically dispatched within 3-5 working days from date of order and is not suitable for our next day delivery service.
Brand: Sequaderma
Code: 5557783621
Weight: 100g
Description
Sequaderm for Acne Prone Skin is an active dermatology solution for care of Acne prone skin that works by lubricating and waterproofing the skin. When sebum is produced in excess, this secretion can trap dirt and bacteria which are a primary cause of spots and acne.
Sequaderma reduces excess sebum by up to 55%, to help prevent the formation of spots and blackheads. It provides an effective antimicrobial action to cleanse the skin and remove bacteria helping to boost the product's spot preventing properties.
Blackheads
Skin impurities
Blemishes
Features
Clinically proven and dermatologically tested
Targeted and effective anti-microbial action
Reduces further spread of infection
Tightens and constricts pores
Sebum clearance and anti-microbial action clears spots and prevents recurrence.
Each 30g bottle provides up to 15 days treatment if it is applied twice daily (2 squirts per application) to the face. Smaller treatment areas will allow the product to last longer.
Directions
Use morning and evening. Spread a suitable amount over the problem area and leave until it is touch dry to activate the penetrative action of Sequessome Technology. The gel layer applied to the skin provides an active delivery environment that allows Sequessome vesicles to cross the skin and in addition treat superficial problems.
Once dried, the Sequessome vesicles are contained deep within the skin and the residual gel layer can be washed off or wiped away with a wet tissue prior to carrying on with your skincare routine.
Warnings
The product is safe to use on affected skin of the face and body, including sensitive areas.
There is no evidence that Sequaderm Dermatology Products can,t be used by pregnant and breast-feeding women or on children below 12 years old, since they are drug-free, however, if there are any concerns it is recommended to consult a GP for further advice.
Ingredients
Zinc, Glycerol/Glycerin, purified Plant Phospholipids, Aqua, Phosphatidylcholine, Alcohol, Glycerin, Methylcellulose, Polysorbate 80, Disodium Phosphate, Benzyl Alcohol, Chlorhexidine Digluconate, Methylparaben, Ethylparaben, Citric Acid, Linalool, Zinc Stearate, BHA.
You may also like